feral

fe·ral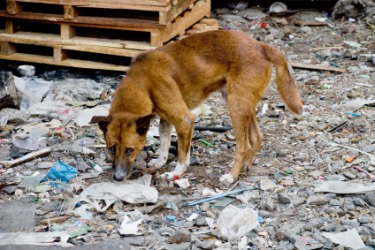 A feral dog.
adjective
The definition of feral is something or someone in a wild state or resembling a wild animal.

An example of something that would be described as feral is an undomesticated cat that scratches and claws if you come near it.
---
feral
untamed; wild
having returned to a wild condition

savage; fierce
Origin of feral
Medieval Latin
feralis
from Classical Latin
fera
, wild animal from
ferus
, fierce + -al
---
feral
adjective
a. Having returned to an untamed state from domestication: a pack of feral dogs.

b. Existing in a wild or untamed state.

Of or suggestive of a wild animal; savage: a feral grin.
Origin of feral
From
Latin
fera
wild animal
from
ferus
wild
; see
ghwer-
in Indo-European roots.
---
feral

Noun
(plural ferals)
A domesticated animal that has returned to the wild; an animal, particularly a domesticated animal, living independently of humans.
(Australia, colloquial) A contemptible young person, a lout, a person who behaves wildly.
(Australia, colloquial) A person who has isolated themselves from the outside world; one living an alternative lifestyle.
Usage notes
The term should not be confused with feral child, a child raised with little or no human assistance.
See also:
féral
---