adjective
The definition of ferocious is something very fierce, cruel, extreme or violent.

When you are so hungry you could eat a horse, this is an example of a time when you might be described as having a ferocious appetite.
YourDictionary definition and usage example. Copyright © 2013 by LoveToKnow Corp.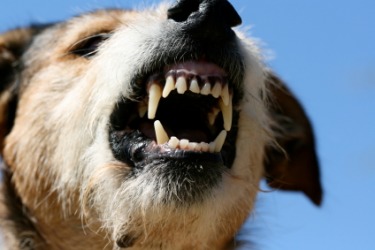 A ferocious dog.
Licensed from iStockPhoto
---
adjective
fierce; savage; violently cruel

Informal

very great: a ferocious appetite
Origin: ; from Classical Latin ferox (gen. ferocis), wild, untamed ; from ferus, fierce plush base akin to oculus, eye plush -ous
Webster's New World College Dictionary
Copyright © 2010 by Wiley Publishing, Inc., Cleveland, Ohio.
Used by arrangement with John Wiley & Sons, Inc.
---
adjective
Extremely savage; fierce. See Synonyms at cruel.
Marked by unrelenting intensity; extreme: ferocious heat.
Origin: From Latin ferōx, ferōc-, fierce; see ghwer- in Indo-European roots.
Related Forms:
The American Heritage® Dictionary of the English Language
, 4th edition Copyright © 2010 by Houghton Mifflin Harcourt Publishing Company. Published by Houghton Mifflin Harcourt Publishing Company. All rights reserved.