noun
The definition of a bully is someone who is mean to others and who throws his weight around.

An example of a bully is the big kid on the playground who steals everyone's lunch money.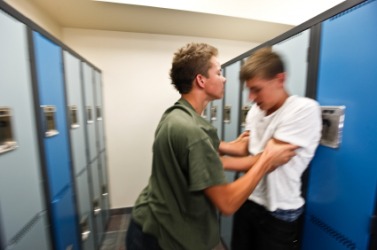 A young man being a bully.
---
bully definition by Webster's New World
noun
pl.
bullies
a person who hurts, frightens, or tyrannizes over those who are smaller or weaker

Brit., Dialectal

a companion or comrade

Archaic

a pimp

Archaic

a hired cutthroat or thug

Archaic

a fine fellow
Origin: origin, originally , sweetheart ; from Dutch boel, lover, brother ; from Middle High German buole (Ger buhle), lover, probably origin, originally diminutive of bruder, brother; later influenced, influence by bull
intransitive verb
to behave like a bully
adjective
dashing, hearty, or jolly: my bully lad
☆

Informal

fine; very good
noun
Origin: French bouilli, boiled beef ; from past participle of bouillir, boil
Webster's New World College Dictionary Copyright © 2010 by Wiley Publishing, Inc., Cleveland, Ohio. Used by arrangement with John Wiley & Sons, Inc.
---
bully definition by American Heritage Dictionary
noun
pl.
bul·lies
A person who is habitually cruel or overbearing, especially to smaller or weaker people.
A hired ruffian; a thug.
A pimp.
Archaic A fine person.
Archaic A sweetheart.
verb
bul·lied
,
bul·ly·ing
,
bul·lies
verb
, transitive
To treat in an overbearing or intimidating manner. See Synonyms at intimidate.
To make (one's way) aggressively.
verb
, intransitive
To behave like a bully.
To force one's way aggressively or by intimidation: "They bully into line at the gas pump" (Martin Gottfried).
adjective
Excellent; splendid: did a bully job of persuading the members.
interjection
Used to express approval: Bully for you!
Origin: Possibly from Middle Dutch boele, sweetheart, probably alteration of broeder, brother; see bhrāter- in Indo-European roots.
noun
Canned or pickled beef. Also called bully beef.
Origin: Perhaps French bouilli, boiled meat, label on canned beef, from past participle of bouillir, to boil, from Old French boilir; see boil1.