verb
The definition of bullying is mean behavior such as physical or verbal abuse directed at another person in order to hurt that individual or to get the individual to do what you want.

Pushing someone down on the playground to steal his lunch money is an example of bullying.
YourDictionary definition and usage example. Copyright © 2013 by LoveToKnow Corp.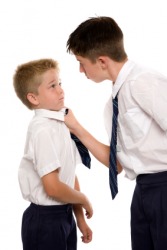 One boy bullying another.
Licensed from iStockPhoto
---
bullying
Variant of bully
noun
pl.
bullies
a person who hurts, frightens, or tyrannizes over those who are smaller or weaker

Brit., Dialectal

a companion or comrade

Archaic

a pimp

Archaic

a hired cutthroat or thug

Archaic

a fine fellow
Origin: origin, originally , sweetheart ; from Dutch boel, lover, brother ; from Middle High German buole (Ger buhle), lover, probably origin, originally diminutive of bruder, brother; later influenced, influence by bull
intransitive verb
to behave like a bully
adjective
dashing, hearty, or jolly: my bully lad
☆

Informal

fine; very good