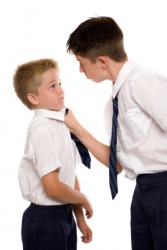 One boy bullying another.
verb
The definition of bullying is mean behavior such as physical or verbal abuse directed at another person in order to hurt that individual or to get the individual to do what you want.

Pushing someone down on the playground to steal his lunch money is an example of bullying.
---
bullying

Noun
(plural bullyings)
An act of intimidating a weaker person to do something, especially such repeated coercion.
Persistent acts intended to make life unpleasant for another person.

Bullying is a punishable offense in all schools.
Verb
Present participle of bully.
---