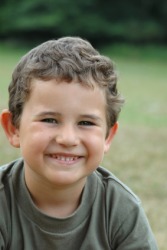 A happy young boy.
noun
The definition of a boy is a young male or, when used offensively, a male employee could be referred to as a boy.

An example of a boy is a male child.
---
boy
a male child from birth to the age of physical maturity; lad; youth
a man regarded as immature or callow
any man; fellow: familiar term
a male domestic worker or servant: a patronizing term applied esp. by Caucasians to nonwhites
a bellboy, messenger boy, etc.

Informal

a son: Mrs. Dill's oldest boy
Origin of boy
Middle English
boie,
servant, commoner, knave, boy from uncertain or unknown; perhaps Old French
embuié
, one fettered from
embuier,
to chain from
em-
, en- + Classical Latin
boiae
, fetters, origin, originally , leather collar for the neck from
bos,
ox, cow
Slang
used to express pleasure, surprise, etc.
---
boy
noun
A male child.
A son: his youngest boy.
Often Offensive A man, especially a young man.
Informal A man socializing in a group of men: a night out with the boys.
Offensive A male servant or employee.
interjection
Used to express mild astonishment, elation, or disgust: Oh boy—what a surprise!
Origin of boy
Middle English
boi
male servant, churl, young male
possibly from
Old French
embuié
person in fetters
from past participle of
embuier
to fetter
from
buie
fetter, shackle
from
Latin
bōia
collar or yoke used to restrain criminals
probably from
Greek
boeiā (dorā)
(skin) of an ox, an ox hide (such restraints being made from ox hide)
from feminine of
boeios
of an ox or oxen, of ox hide
from
bous
ox
; see
gwou-
in Indo-European roots.
Related Forms:
---
boy

Noun
(plural boys)
(now uncommon and/or offensive) Male servant.

(now rare) A male servant, in general senses. [from 14th c.]
(historical, now offensive) A non-white male servant, as used especially by whites in a colonial settlement etc. [from 17th c.]
(now offensive) A non-white male. [from 19th c.]

A young male human; a male child or young adult. [from 15th c.]

the boys were playing kickball in the mud;  Steve is a boy of 16

A son.
A man of any age, used as a friendly diminutive, or of a man who is merely younger than the speaker. [from 17th c.]
(colloquial) A male friend or fellow of some group, community etc. (mainly used in the plural). [from 19th c.]

I'm going out for a few drinks with the boys;  me and my boy grew up together in Southside

A familiar way of addressing a male dog. [from 19th c.]

Here, boys, heel; yes, Bobby, show the puppies how, good boy!

(US, slang) Heroin. [from 20th c.]
Interjection
Exclamation of surprise, pleasure or longing.

Boy, that was close!
Boy, that tastes good!
Boy, I wish I could go to Canada!
Verb
(third-person singular simple present boys, present participle boying, simple past and past participle boyed)
to use the word boy to refer to someone

Don't boy me!

to act as a boy (in allusion to the former practice of boys acting women's parts on the stage)
Origin
From Middle English boy, boye ("servant, commoner, knave, boy"), from Old English *bōia ("boy"), from Proto-Germanic *bōjô ("younger brother, young male relation"), from Proto-Germanic *bō- ("brother, close male relation"), from Proto-Indo-European *bʰā-, *bʰāt- ("father, elder brother, brother"). Cognate with Scots boy ("boy"), Eastern Frisian boi ("boy, young gentleman"), West Frisian boai ("boy"), Middle Dutch boi, booi ("boy"), Low German Boi ("boy"), and probably to the Old English proper name Bōia. Also related to West Flemish boe ("brother"), Norwegian dialectal boa ("brother"), Dutch boef ("rogue, knave"), German dialectal Bube ("boy, lad, knave"), Icelandic bófi ("rogue, crook, bandit, knave"). See also bully.
---