noun
The definition of a daughter is a female child that a mother gives birth to or adopts.

An example of a daughter is the little girl you gave birth to.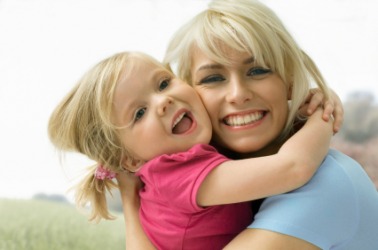 A mother with her young daughter.
---
daughter definition by Webster's New World
noun
a girl or woman as she is related to either or both parents: sometimes also used of animals
a female descendant

a stepdaughter
an adopted daughter
a daughter-in-law

a female thought of as having been formed by some influence, as a child is by a parent: a daughter of the French Revolution
anything thought of as like a daughter in relation to its source or origin: colonies are daughters of the mother country

Physics

an element that results immediately from the disintegration of a radioactive element
Origin: Middle English doughter ; from Old English dohtor, akin to Gothic dauhtar, German tochter ; from Indo-European base an unverified form dhugheter from source Sanskrit duhitár, Classical Greek thugatēr
Webster's New World College Dictionary Copyright © 2010 by Wiley Publishing, Inc., Cleveland, Ohio. Used by arrangement with John Wiley & Sons, Inc.
---
daughter definition by American Heritage Dictionary
noun
One's female child.
A female descendant.
A woman considered as if in a relationship of child to parent: a daughter of the nation.
One personified or regarded as a female descendant: "Culturally Japan is a daughter of Chinese civilization" (Edwin O. Reischauer).
Physics The immediate product of the radioactive decay of an element.
adjective
Possessing the characteristics of a daughter; having the relationship of a daughter.
Biology Of or relating to a cell, organelle, or other structure produced by division or replication: daughter cell; daughter DNA.
Physics Produced by or resulting from the decay of a radioactive element: daughter atom; daughter nuclide.
Origin: Middle English doughter, from Old English dohtor; see dhugəter- in Indo-European roots.
Related Forms: