adjective
The definition of descendant is moving down either physically or in a family line.

An example of descendant used as an adjective is the phrase "descendant escalator" which means an escalator that goes down.
noun
Descendant is defined as an offspring of a particular person.

An example of a descendant is a man being the great, great grandson of someone.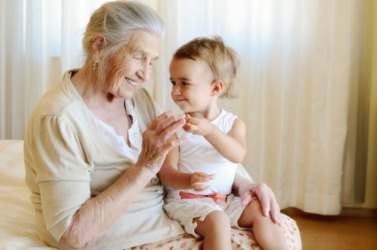 A great-grandmother with her descendant.
---
descendant definition by Webster's New World
adjective
Origin: Middle English descendaunt ; from Old French descendant ; from Classical Latin descendens, present participle of descendere: see descend
noun
a person who is an offspring, however remote, of a certain ancestor, family, group, etc.
something that derives from an earlier form
Webster's New World College Dictionary Copyright © 2010 by Wiley Publishing, Inc., Cleveland, Ohio. Used by arrangement with John Wiley & Sons, Inc.
---
descendant definition by American Heritage Dictionary
noun
A person, animal, or plant whose descent can be traced to a particular individual or group.
Something derived from a prototype or earlier form: Today's bicycles are descendants of the earlier velocipede.
In astrology, the point of the ecliptic or the sign of the zodiac that sets in the west at the time of a person's birth or other event.
adjective
The American Heritage® Dictionary of the English Language, 4th edition Copyright © 2010 by Houghton Mifflin Harcourt Publishing Company. Published by Houghton Mifflin Harcourt Publishing Company. All rights reserved.
---
descendant - Legal Definition
n
A person's child, grandchild, great-grandchild, or other offspring in the direct line of descent.