descendant

de·scen·dant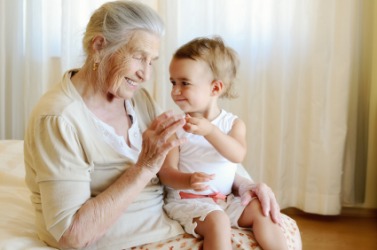 A great-grandmother with her descendant.
adjective
The definition of descendant is moving down either physically or in a family line.

An example of descendant used as an adjective is the phrase "descendant escalator" which means an escalator that goes down.
noun
Descendant is defined as an offspring of a particular person.

An example of a descendant is a man being the great, great grandson of someone.
---
descendant
Origin of descendant
Middle English
descendaunt
from Old French
descendant
from Classical Latin
descendens
, present participle of
descendere
: see descend
a person who is an offspring, however remote, of a certain ancestor, family, group, etc.
something that derives from an earlier form
---
descendant
noun
One whose descent can be traced to a particular individual or group: a descendant of Queen Victoria; descendants of a prize-winning horse.
Something derived from a prototype or earlier form: Today's bicycles are descendants of the earlier velocipede.
In astrology, the point of the ecliptic or the sign of the zodiac that sets in the west at the time of a person's birth or other event.
adjective
---
descendant

Usage notes
The adjective may be spelled either with ant or ent as the final syllable (see descendent). The noun may be spelled only with ant.
Noun
(plural descendants)
(literally) One who is the progeny a specified person, at any distance of time or through any number of generations.

The patriarch survived many descendants: five children, a dozen grandchildren, even a great grandchild.

(figuratively) A thing that derives directly from a given precursor or source.

This famous medieval manuscript has many descendants.

(biology) A later evolutionary type.

Dogs evolved as descendants of early wolves.

(linguistics) A language that is descended from another.

English and Scots are the descendants of Old English.

(linguistics) A word or form in one language that is descended from a counterpart in an ancestor language.
Origin
From Middle English dessendaunte, from Middle French, from Latin dēscendēns, present participle of descendere, from dē + scandere ("to climb, ascend").
---
descendant - Legal Definition
n
A person's child, grandchild, great-grandchild, or other offspring in the direct line of descent.
---