raid

raid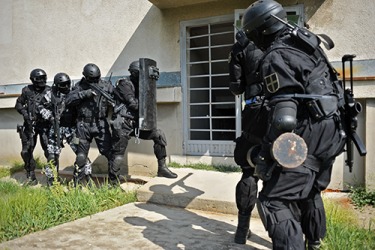 A SWAT raid drill at an abandoned building.
noun
The definition of a raid is a surprise attack or surprise visit, especially when done by the military during war or by police to arrest suspects.

An example of a raid is when an army launches a surprise attack.
An example of a raid is when police show up unannounced to a suspected drug den to arrest the drug dealers.
verb
To raid is to take something quickly and stealthily or to launch a surprise attack or surprise visit.

An example of to raid is when you sneak down and take all the cookies from the cookie jar.
An example of to raid is when the military drops a bomb in a surprise attack.
---
raid
a sudden, hostile attack, esp. by troops, military aircraft, etc., or by armed, usually mounted, bandits intent on looting
any act or instance of entering to remove or capture something: a midnight raid on a refrigerator

any sudden invasion of a place, as by police, for discovering and dealing with violations of the law
an attempt, as by a business concern, to lure employees from a competitor
a deliberate attempt by one or more speculators to cause a quick, unexpected fall in stock market prices
Origin of raid
North Eng variant, variety of road, preserving etymology sense, "a riding": used origin, originally of an incursion along the border
to make a raid or raids (on)
---
raid
noun
A surprise attack by a small armed force.
A sudden forcible entry into a place by police: a raid on a gambling den.
An entrance into another's territory for the purpose of seizing goods or valuables.
A predatory operation mounted against a competitor, especially an attempt to lure away the personnel or membership of a competing organization.
An attempt to seize control of a company, as by acquiring a majority of its stock.
An attempt by speculators to drive stock prices down by coordinated selling.
verb
raid·ed, raid·ing, raids
verb
transitive
To make a raid on.
verb
intransitive
To conduct a raid or participate in one.
Origin of raid
Scots
raid on horseback
from
Middle English
rade
from
Old English
rād
a riding, road
; see
reidh-
in Indo-European roots.
Related Forms:
Word History:
Raid
and
road
both descend from the Old English word
rād,
which meant primarily "the act of riding" but could also be used specifically to describe an act of riding with hostile intent—that is, a raid. The
ai
in
raid
represents the standard development of the Old English vowel
ā
in Scots and the dialects of northern England, while the
oa
in
road
represents the standard development of Old English
ā
in the dialects of southern England. In the dialects of southern England,
road
retained its earlier senses of "journey on horseback" and "hostile foray" until the mid-1600s, when the modern sense "public way" became the most common meaning of the word. Later, Sir Walter Scott (1771-1832) helped popularize the northern form of the word,
raid,
through his collections of Scots ballads and his other writings. In the meaning "a military expedition on horseback,"
raid
became part of the general vocabulary of English outside of Scotland and northern England. A trace of the earlier meaning of
road,
"foray, raid," can still be detected in the compound
inroad,
literally "a riding or advance into."
---
raid

Noun
(plural raids)
A hostile or predatory incursion; an inroad or incursion of mounted men; a sudden and rapid invasion by a cavalry force; a foray.
An attack or invasion for the purpose of making arrests, seizing property, or plundering; as, a raid of the police upon a gambling house; a raid of contractors on the public treasury.
(online gaming) A large group in a massively multiplayer online game, consisting of multiple parties who team up to defeat a powerful enemy.
(sports) An attacking movement.
Verb
(third-person singular simple present raids, present participle raiding, simple past and past participle raided)
Origin
From Scots raid (obsolete after Middle English but revived in the 19th-century by Walter Scott), from Old English rād (> English road).
Acronym
(computing) A redundant array of inexpensive disks, or, less frequently restated as a redundant array of independent disks.
---
raid - Computer Definition

A storage technology that distributes data across a group of physically separate hard drives configured as a single logical memory unit. As RAID stores all data on redundant drives, it provides a considerable level of fault tolerance. RAID may involve drives on multiple servers in a cluster connected via a storage area network (SAN). A simpler and less expensive approach is known as just a bunch of disks (JBOD), which essentially is a bunch of disk drivers not configured as a RAID. See also JBOD, SAN, and server.
---
(Redundant Array of Independent Disks) A disk subsystem that increases performance or provides fault tolerance or both. RAID uses two or more physical disk drives and a RAID controller, which is plugged into motherboards that do not have RAID circuits. Today, most motherboards have built-in RAID but not necessarily every RAID configuration (see below). In the past, RAID was also accomplished by software only but was much slower. In the late 1980s, the "I" in RAID stood for "inexpensive" but was later changed to "independent." In large storage area networks (SANs), floor-standing RAID units are common with terabytes of storage and huge amounts of cache memory. RAID is also used in desktop computers by gamers for speed and by business users for reliability. Following are the various RAID configurations. See NAS and SAN.
RAID 0 - Disk Striping for Performance (Popular)
Widely used for gaming, disk striping interleaves data across multiple drives for performance. However, there are no safeguards against failure. See
RAID 0
.
RAID 1 - Mirroring for Fault Tolerance (Popular)
Widely used, RAID 1 writes two drives at the same time. It provides the highest reliability but doubles the number of drives needed. RAID 10 combines RAID 1 mirroring with RAID 0 striping for both safety and performance. See
RAID 1
and
RAID 10
.
RAID 3 - Speed and Fault Tolerance
Data are striped across three or more drives for performance, and parity is computed for safety. Similar to RAID 3, RAID 4 uses block level striping but is not as popular. See
RAID 3
and
RAID parity
.
RAID 5 - Speed and Fault Tolerance (Popular)
Data are striped across three or more drives for performance, and parity is computed for safety. RAID 5 is similar to RAID 3, except that the parity is distributed to all drives. RAID 6 offers more reliability than RAID 5 by performing more parity computations. For more details, see
RAID 5
.
---