pillage

pil·lage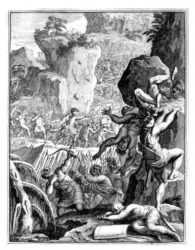 Depiction of troops of King of Visigoths pillaging Rome.
noun
Pillage is the act of taking or stealing something by force.

An example of a pillage is a group of people who take over a village and steal all the food and supplies.
verb
Pillage is defined as to take something by force.

An example of pillage is holding a knife to someone's back and taking their money and jewelry.
---
pillage
the act of plundering
that which is plundered; booty; loot
Origin of pillage
Middle English
pilage
from Middle French from
piller:
see pill
transitive verb
-·laged

,

-·lag·ing
to deprive of money or property by violence; loot
to take as booty or loot
to engage in plunder; take loot
---
pillage
verb
pil·laged, pil·lag·ing, pil·lag·es
verb
transitive
To rob of goods by force, especially in time of war; plunder.
To take as spoils.
verb
intransitive
To take spoils by force.
noun
The act of pillaging.
Something pillaged; spoils.
Origin of pillage
From
Middle English
booty
from
Old French
from
piller
to take (by ruse), plunder, manhandle
from
Vulgar Latin
pīliāre
perhaps originally meaning "to deprive (someone) of his felt cap"
and derived from
Latin
pilleus, pīleus
felt cap (given to an ancient Roman freedman as a symbol of his emancipation)
perhaps akin to
Greek
pīlos
felt
Related Forms:
---
pillage

Verb
(third-person singular simple present pillages, present participle pillaging, simple past and past participle pillaged)
Noun
(uncountable)
The spoils of war.
The act of pillaging.
---