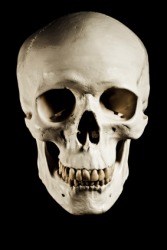 The image of a skull will frighten some people.
verb
The definition of frighten is to cause fear or to make someone afraid or anxious.

When you tell a child a very scary ghost story, this is an example of a situation where you frighten the child.
---
frighten
to cause to feel fright; make suddenly afraid; scare; terrify
to force (away, out, or off) or bring (into a specified condition) by making afraid: to frighten someone into confessing
to become suddenly afraid
---
frighten
verb
fright·ened, fright·en·ing, fright·ens
verb
transitive
To fill with fear; alarm.
To drive or force by arousing fear: The suspect was frightened into confessing.
verb
intransitive
To become afraid: told ghost stories to campers who frightened easily.
Related Forms:
---
frighten

---