primitive

prim·i·tive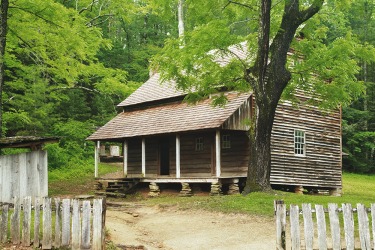 A primitive cabin
adjective
The definition of primitive is something lacking in sophistication, or not advanced, or bare-bones condition or instincts that resemble animal-instincts and don't require thought.

An example of primitive is a society that has not yet developed or industrialized.
An example of primitive is a cabin in the woods as your sleeping accommodations.
An example of primitive is the urge to eat or use the bathroom.
---
primitive
of or existing in the beginning or the earliest times or ages; ancient; original

characteristic or imitative of the earliest ages
crude, simple, rough, uncivilized, etc.

not derivative; primary; basic

Anthrop.

of or having to do with a preliterate, generally isolated, culture with a relatively low level of technology

Biol.

designating or of an organism, organ, etc. at the starting point of its evolutionary development or very little evolved from early ancestral types
primordial (sense )
Origin of primitive
Middle English
primitif
from Middle French from Classical Latin
primitivus
from
primus
, first: see prime
a primitive person or thing

an artist or a work of art of an early, esp. preliterate, culture
an artist or a work of art that shows ingenuousness and lack of formal training

a form from which another is derived

Gram.

the form from which a certain word or other form has been derived; root; base
---
primitive
adjective
a. Of or relating to an early or original stage or state; primeval: life in the primitive ocean.

b. Occurring in or characteristic of an early stage of development or evolution: fossils of primitive angiosperms from the Cretaceous Period.

c. Having developed early in the evolutionary history of a group: Hair is a primitive trait of mammals.

d. Regarded as having changed little in evolutionary history. Not in scientific use: The coelacanth is a primitive fish.

Characterized by simplicity or crudity; unsophisticated: primitive weapons.
Of or relating to a nonindustrial, often tribal culture, especially one that is characterized by an absence of literacy and a low level of economic or technological complexity: primitive societies.
Not derived from something else; primary or basic: "Conscious perception is … the most primitive form of judgment" ( Alfred North Whitehead )
Linguistics

a.

Serving as the basis for derived or inflected forms:

Pick

is the primitive word from which

picket

is derived.

b. Being a protolanguage: primitive Germanic.

Not resulting from conscious thought or deliberation; unconscious or instinctual: primitive passions.

a. Of or created by an artist without formal training; simple or naive in style.

b. Of or relating to late medieval or pre-Renaissance European painters or sculptors.
noun
A person belonging to a nonindustrial, often tribal society, especially a society characterized by a low level of economic or technological complexity.
Derogatory An unsophisticated or unintelligent person.
One that is at a low or early stage of development.

a. One belonging to an early stage in the development of an artistic trend, especially a painter of the pre-Renaissance period.

b. An artist having or affecting a simple, direct, unschooled style, as of painting.

c. A work of art created by a primitive artist.

Linguistics

a. A word or word element from which another word is derived by morphological or historical processes or from which inflected forms are derived.

b. A basic and indivisible unit of linguistic analysis. Also called prime .

Mathematics An algebraic or geometric expression from which another expression is derived.
Computers A basic or fundamental unit of machine instruction or translation.
Origin of primitive
Middle English
from
Old French
primitif, primitive
from
Latin
prīmitīvus
from
prīmitus
at first
from
prīmus
first
; see
per
1
in Indo-European roots.
Related Forms:
prim′i·tive·ness prim′i·tiv′i·ty

noun
---
primitive

Noun
(plural primitives)
An original or primary word; a word not derived from another, as opposed to derivative.
A simple-minded person.
(computing, programming) A data type that is built into the programming language, as opposed to more complex structures.
A basic geometric shape from which more complex shapes can be constructed.
(mathematics) A function whose derivative is a given function; an antiderivative.
Adjective
(comparative more primitive, superlative most primitive)
Of or pertaining to the beginning or origin, or to early times; original; primordial; primeval; first.

primitive innocence;   the primitive church

Of or pertaining to or harking back to a former time; old-fashioned; characterized by simplicity.

a primitive style of dress

(grammar) Original; primary; radical; not derived.

a primitive verb

(biology) Occurring in or characteristic of an early stage of development or evolution.
---
primitive - Computer Definition
(1) See primitive data type.
(2) In computer graphics, an element that is used as a building block for creating images, such as a point, line, arc, cone or sphere.
(3) In programming, a fundamental instruction, statement or operation. See machine instruction.
(4) In microprogramming, a microinstruction, or elementary machine operation. See microcode.
---