nourish

nour·ish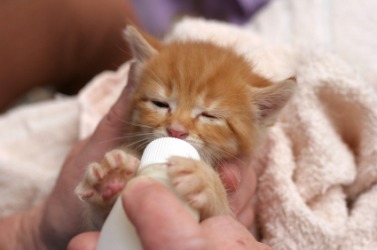 A tiny kitten being nourished.
verb
Nourish is defined as to feed or develop.

An example of nourish is to provide food, drink and daily care to a kitten.
---
nourish
to feed or sustain (any plant or animal) with substances necessary to life and growth
to foster; develop; promote (a feeling, attitude, habit, etc.)
Origin of nourish
Middle English
norischen
from Old French extended stem of
norrir
from Classical Latin
nutrire
: see nurse
---
nourish
transitive verb
nour·ished, nour·ish·ing, nour·ish·es
To provide with food or other substances necessary for life and growth; feed.
To foster the development of; promote: "Athens was an imperial city, nourished by the tribute of subjects" ( V. Gordon Childe )
To keep alive; maintain: nourish a hope.
Origin of nourish
Middle English
norishen
from
Old French
norrir
norriss-
from
Vulgar Latin
nutrīre
from
Latin
nūtrīre
; see
(s)nāu-
in Indo-European roots.
Related Forms:
---
nourish

Noun
(plural nourishes)
(obsolete) A nurse.
Verb
(third-person singular simple present nourishes, present participle nourishing, simple past and past participle nourished)
Origin
From Middle English, from Old French nouriss-, stem of one of the conjugated forms of norrir, from Latin nutrire ("to suckle, feed, foster, nourish, cherish, preserve, support").
---