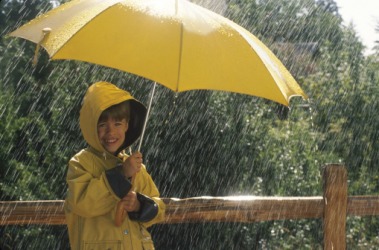 The boy has protection from the rain by using his umbrella.
noun
Protection is a person or thing that shields from danger, pain or discomfort, or money paid to avoid violence or prosecution.

An example of protection is an umbrella to stand under during a rainstorm.
An example of protection is money paid by a shopowner to the mob to avoid violence.
An example of protection is a bribe paid to a government official to avoid being fined for doing something wrong.
---
protection
a protecting or being protected
an instance of this

a person or thing that protects
a device, as a condom, used to prevent conception or the spread of sexually transmitted diseases
a safe-conduct pass or passport

Informal

money extorted by racketeers threatening violence
bribes paid to officials by racketeers to avoid prosecution

Econ.

the system of protecting domestic products as by taxing imported goods
Origin of protection
Middle English
proteccioun
from Middle French
protection
from Late Latin
protectio
---
protection
noun
a. The act of protecting.

b. The condition of being protected.

One that protects: wore gloves as a protection against cold; saw darkness as their protection in trying to escape.
A pass guaranteeing safe-conduct to travelers.
Something that lowers the risk of pregnancy or infection, especially the use of a condom.

a. Payment collected by racketeers from businesses or illegal enterprises under threat of violence.

b. Payment made by racketeers to officials or law enforcement to avoid arrest or prosecution.
Related Forms:
pro·tec′tion·al

adjective
---
protection

Noun
(countable and uncountable, plural protections)
The process of keeping (something or someone) safe.

Raincoats give protection from rain.

The state of being safe.
A means of keeping or remaining safe.
A means, such as a condom, of preventing pregnancy or sexually transmitted disease.
(insurance) Coverage.
Immunity from harm obtained by illegal payments, as bribery or extortion.
(economics) Restrictions on foreign competitors which limit their ability to compete with domestic producers of goods or services.
(computing) An instance of a security token associated with a resource (such as a file.)
Origin
Middle English, from Old French, from stem of Latin protectio ("a covering over"), from protectus, past participle of protegere ("to protect, to cover in front")
---
protection - Computer Definition
---