fort

fort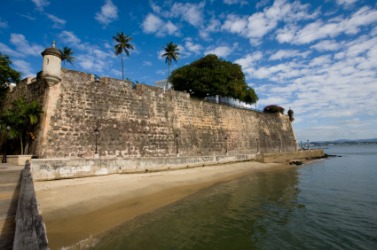 An old fort in Puerto Rico.
noun
The definition of a fort is a building that has been protected, often because of its military importance.

An example of a fort is a protected building where arms are stored and where guards are posted.
---
fort
an enclosed place or fortified building for military defense, equipped as with earthworks, guns, etc.
a permanent army post, as distinguished from a temporary camp
Origin of fort
Middle English
forte
, origin, originally adjective , strong from Classical Latin
fortis
from Old Latin
forctus
from Indo-European base an unverified form
bhere?h-
, high, elevated from source Sanskrit
b??hati
, (it) strengthens, elevates, Old High German
berg
, hill
hold the fort
to make a defensive stand

Informal

to keep things in operation; remain on duty, etc.
---
fort
noun
A fortified place or position stationed with troops.
A permanent army post.
Origin of fort
Middle English
strength, stronghold
from
Old French
strong, strength
from
Latin
fortis
; see
bhergh-
2
in Indo-European roots.
---
fort

Origin
From Middle French fort (adjective use is of Old French).
---