plantation

plan·ta·tion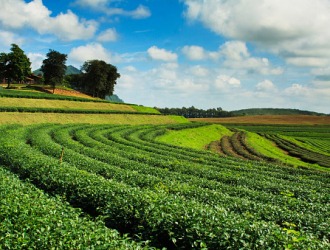 Tea plantation
noun
The definition of a plantation is a settlement that grows crops, or a large group of plants, trees or other flora.

An example of a plantation is a huge farm estate.
---
plantation
Archaic

a colony or new settlement
an area growing cultivated crops
an estate, as in a tropical or semitropical region, cultivated by workers living on it, specif. one located in the S U.S. in the 18th or 19th cent.
a large, cultivated planting of trees: a rubber plantation
Origin of plantation
Classical Latin
plantatio
from
plantare,
to plant
Plantation
city in SE Fla., near Fort Lauderdale
Origin of Plantation
probably named for the large town lots, called
plantations
by early settlers
---
plantation
noun
An area under cultivation.
A group of cultivated trees or plants.
A large estate or farm on which crops are raised, often by resident workers.
A newly established settlement; a colony.
---
plantation

Noun
(plural plantations)
Large farm; estate or area of land designated for agricultural growth. Often includes housing for the owner and workers.
Area where trees are planted for commercial purposes.
Origin
From Latin plantātiō ("planting, transplanting"), from plantātus ("planted"), the perfect passive participle of plantāre, + action noun suffix -tiō.
---