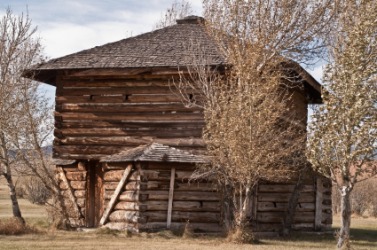 An old blockhouse in Montana.
Licensed from iStockPhoto
---
noun
Historical

a strong wooden fort with a projecting second story and openings in the walls for the defenders to shoot from
☆ any building of squared timber or logs
☆

Mil.

a small defensive structure of concrete
☆ a dome-shaped, heavily reinforced structure, with periscopes and detecting instruments, to protect observers of missile launchings, nuclear explosions, etc.
Webster's New World College Dictionary
Copyright © 2010 by Wiley Publishing, Inc., Cleveland, Ohio.
Used by arrangement with John Wiley & Sons, Inc.
---
noun
A military fortification constructed of sturdy material, such as concrete, and designed with ports for defensive firing or observation.
A heavily reinforced building used for launch operations of missiles and space launch vehicles.
A fort made of squared timbers with a projecting upper story.
The American Heritage® Dictionary of the English Language
, 4th edition Copyright © 2010 by Houghton Mifflin Harcourt Publishing Company. Published by Houghton Mifflin Harcourt Publishing Company. All rights reserved.