precariously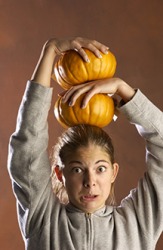 A girl balancing two pumpkins precariously on her head.
adverb
Precariously is defined as something done in an uncertain manner, or something that is barely hanging on and that is likely to collapse or come crashing down.

When you are provoking an angry and dangerous person, this is an example of a situation where you are precariously close to danger.
---
precariously

---