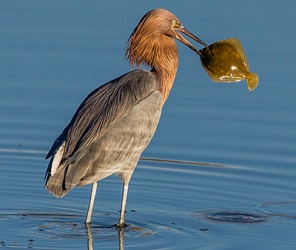 The egret speared the fish with its slender beak.
adjective
The definition of slender is narrow in width, thin or slim in size, or having only a little force.

An example of a slender person is someone who is 5'8 and 120 pounds.
An example of a slender chance is for a candidate to only have a small chance of winning.
---
slender
small in width or girth; narrow: a slender waist
having a slim, trim figure: a slender girl
small or limited in amount, size, extent, etc.; meager: a student living on slender means
of little force or validity; having slight foundation; feeble: slender hope
Origin of slender
Middle English
slendre, sclendre
from uncertain or unknown; perhaps
---
slender
adjective
slen·der·er, slen·der·est
a. Having little width in proportion to height or length; long and thin: a slender rod.

b. Thin and delicate in build; gracefully slim: "She was slender as a willow shoot is slender—and equally graceful, equally erect" ( Frank Norris )

Small in amount or extent; meager: slender wages; a slender chance of survival.
Origin of slender
Middle English
sclendre, slendre
Related Forms:
---
slender

Adjective
(comparative slenderer, superlative slenderest)
(Gaelic languages)  Palatalized.
Origin
From Middle English slendre, sclendre, from Old French esclendre ("thin, slender"), from Old Dutch slinder ("thin, lank"), from Proto-Germanic *slindraz ("sliding, slippery"), from Proto-Indo-European *sleidh- ("to slip"). Cognate with Bavarian Schlenderling ("that which dangles"), German schlendern ("to saunter, stroll"), Dutch slidderen, slinderen ("to wriggle, creep like a serpent"), Low German slindern ("to slide on ice"). More at slide, slither.
---