bashful

bash·ful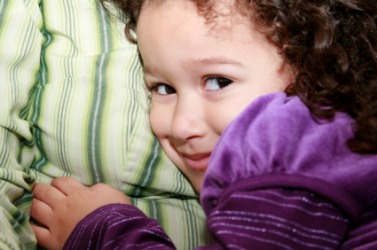 A bashful little girl.
adjective
The definition of bashful is someone easily embarrassed or timid or shy.

A child hiding behind their parent is an example of bashful.
---
bashful
timid, shy, and easily embarrassed
showing an embarrassed timidity
Origin of bashful
(a)bash + -ful
---
bashful
adjective
Shy, self-conscious, and awkward in the presence of others: "I never laughed, being bashful. / Lowering my head, I looked at the wall" ( Ezra Pound )
Characterized by, showing, or resulting from shyness, self-consciousness, or awkwardness: "He had polite bashful manners and a low grownup voice" ( John Dos Passos )
Origin of bashful
From
obsolete
bash
to abash, be abashed
(
from
Middle English
basshen
) (
variant of
abaishen, abasshen
; see
abash
. )
-ful
Related Forms:
---
bashful

Adjective
(comparative more bashful, superlative most bashful)
inclined to avoid notice
reserved; disinclined to familiar approach.
---