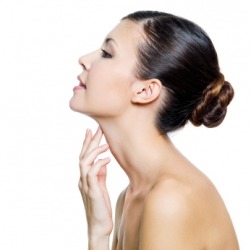 A woman touching her neck.
---
neck
noun
that part of a human or animal joining the head to the body, including the part of the backbone between the skull and the shoulders
a narrow part between the head, or end, and the body, or base, of any object: the neck of a violin, the neck of a goblet
that part of a garment which covers, encircles, or is nearest the neck
the narrowest part of any object, considered to be like a neck; specif.,

a narrow strip of land
the narrowest part of an organ: the neck of the uterus, the neck of a tooth
the narrowest or tapering part of a bottle, vase, etc.
a strait or channel

Geol.

a vertical column of hardened igneous rock, formerly plugging a volcanic conduit and later exposed by erosion and weathering
Origin of neck
Middle English
nekke
; from Old English
hnecca
, akin to German
nacken
; from Indo-European base an unverified form
ken-
, to bend, squeeze from source nook, nut
transitive verb
to kill (a fowl) by twisting its neck
☆

Slang

to hug, kiss, and caress passionately
intransitive verb
Slang
to engage in such passionate behavior
break one's neck
Informal
to try very hard
get it in the neck
☆
Slang
to be severely reprimanded or punished
neck and neck
so close together in a race or contest that the outcome hangs in the balance
neck of the woods
☆ a region or locality: not from this neck of the woods
risk one's neck
to put one's life, career, reputation, etc. in danger
stick one's neck out
to expose oneself to possible failure, ridicule, loss, etc. by taking a chance
win (or lose) by a neck
Horse Racing

to win (or lose) by the length of a horse's head and neck
to win (or lose) any contest by a narrow margin
---
neck
noun
Anatomy

a. The part of the body joining the head to the shoulders or trunk.

b. A narrow or constricted area of a bodily structure, as of a bone, that joins its parts; a cervix.

c. The part of a tooth between the crown and root.

The part of a garment around or near the neck.
A relatively narrow elongation, projection, or connecting part: a neck of land; the neck of a flask.
Music The narrow part along which the strings of an instrument extend to the pegs.
Printing See beard.
Geology Solidified lava filling the vent of an extinct volcano.
The siphon of a bivalve mollusk, such as a clam.
A narrow margin: won by a neck.
verb
necked
,
neck·ing
,
necks
verb
, intransitive
Informal
To kiss and caress amorously.
verb
, transitive
To strangle or decapitate (a fowl).
Origin of neck
Middle English
nekke
, from Old English
hnecca
.
Related Forms:
neck
Shiprock Peak, a volcanic neck, near Shiprock, New Mexico
---
neck
Noun
(plural necks)
The corresponding part in some other anatomical contexts.
(botany) The slender tubelike extension atop an archegonium, through which the sperm swim to reach the egg.
(music) The extension of any stringed instrument on which a fingerboard is mounted
A long narrow tract of land projecting from the main body, or a narrow tract connecting two larger tracts.
(engineering) A reduction in size near the end of an object, formed by a groove around it.

a neck forming the journal of a shaft
Verb
(third-person singular simple present necks, present participle necking, simple past and past participle necked)
(US) To make love; to snog; to intently kiss or cuddle.

Alan and Betty were necking in the back of a car when Betty's dad caught them.

To drink rapidly.
To decrease in diameter.
Origin
From Middle English nekke, nakke, from Old English hnecca, *hnæcca ("neck, nape"), from Proto-Germanic *hnakkô ("nape, neck"), from Proto-Indo-European *knog-, *kneg- ("back of the head, nape, neck"). Cognate with Scots nek ("neck"), North Frisian neek, neeke, Nak ("neck"), Saterland Frisian Näcke ("neck"), West Frisian nekke ("neck"), Dutch nek ("neck"), Low German Nakke ("neck"), German Nacken ("nape of the neck"), Danish nakke ("neck"), Swedish nacke ("neck"), Icelandic hnakki ("neck"), Tocharian A kñuk ("neck, nape"). Possibly a mutated variant of *kneug/k (cf. Old English hnocc 'hook, penis', Welsh cnwch 'joint, knob', Latvian knaÅ«Ä·is 'dwarf', Ancient Greek knychóō 'to draw together'). More at nook.
---