collar

col·lar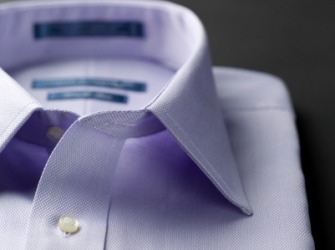 The collar of a mans shirt.
noun
The definition of a collar is the part of a garment that goes around the neck, or something that is worn around the neck.

An example of a collar is what a dog wears to hold an identification tag.
verb
Collar means to put something around the neck, or to take hold of.

An example of collar is to put something around the neck of a dog to attach a leash.
---
collar
the part of a garment that encircles the neck
a cloth band or folded-over piece attached to the neck of a garment
an ornamental band, chain, or circlet worn around the neck
a band of leather or metal for the neck of a dog, cat, etc.
the part of a harness that fits around the base of the neck of a horse or other draft animal and against which the animal exerts pressure in pulling a load
a ring or flange, as on rods or pipes, to prevent sideward motion, connect parts, etc.
a distinctive band, as of a different color or texture, around the neck of an animal, bird, etc.
the foam that forms on the top of a glass of beer

Slang

an arrest or capture
Origin of collar
Middle English
coler
from Old French
colier
from Classical Latin
collare
, band or chain for the neck from
collum,
the neck from Indo-European base an unverified form
kwel-,
to turn from source wheel, German
hals,
neck
to put a collar on
to seize by the collar

Informal

to take hold or control of; seize or capture
to stop and delay by talking to
go for the collar
Baseball
to go without a hit in a game
---
collar
noun
a. The part of a garment that encircles the neck, especially when raised or folded.

A tight-fitting necklace.

a. A restraining or identifying band of leather, metal, or plastic put around the neck of an animal.

b. The cushioned part of a harness that presses against the shoulders of a draft animal.

Biology An encircling structure or bandlike marking, as around the neck of an animal, suggestive of a collar.
Any of various ringlike devices used to limit, guide, or secure a machine part.
Slang An arrest, as of a criminal.
transitive verb
col·lared, col·lar·ing, col·lars
To furnish with a collar.
Slang

a. To seize or detain.

b. To arrest (a criminal, for example).
Origin of collar
Middle English
coler
from
Old French
colier
from
Latin
collāre
from
collum
neck
; see
kwel-
1
in Indo-European roots.
Related Forms:
---
collar

Noun
(plural collars)
The part of an upper garment (shirt, jacket, etc.) that fits around the neck and throat, especially if sewn from a separate piece of fabric.
A decorative band or other fabric around the neckline.
A similar detachable item.
Anything that encircles the neck.
A band or chain around an animal's neck, used to restrain and/or identify it.

Make sure your dog has a collar holding an identification tag.

(technology) Any encircling device or structure.

A nylon collar kept the bolt from damaging the surface underneath.

(in compounds) Of or pertaining to a certain category of professions as symbolized by typical clothing.
(rail transport) A physical lockout device to prevent operation of a mechanical signal lever.
(architecture) A collar beam.
(botany) The neck or line of junction between the root of a plant and its stem.

A coloured ring round the neck of a bird or mammal.
(nautical) An eye formed in the bight or bend of a shroud or stay to go over the masthead; also, a rope to which certain parts of rigging, as dead-eyes, are secured.
(mining) A curb, or a horizontal timbering, around the mouth of a shaft.
Verb
(third-person singular simple present collars, present participle collaring, simple past and past participle collared)
---
collar - Investment & Finance Definition
A restriction on index-arbitrage trading, which is also called program trading. Collars are imposed to keep markets stable by restricting extreme price movements. An example of a collar is the one instituted by the New York Stock Exchange. Under New York Stock Exchange rules, if the Dow Jones Industrial Average moves up or down 2 percent from the average closing value of the DJIA for the last month during the previous quarter, collars are instituted. If the market erases half of that move, the trading collars are removed. The NYSE sets the equivalent point level quarterly. Other exchanges may have their own collars. Also called trading collars.
In the context of mergers, collars may be used to set minimum and maximum prices the acquiring company will pay. Setting collars is often necessary in the acquisition of publicly traded companies because the price of the companies' stock may vary greatly between the time the deal was announced and when it actually closes many months later.
A supply contract between a buyer and seller of a commodity, in which the buyer is assured that he or she will not have to pay more than some maximum price, and the seller is assured of receiving some minimum price. Also called option fence and range forward.
---