leash

leash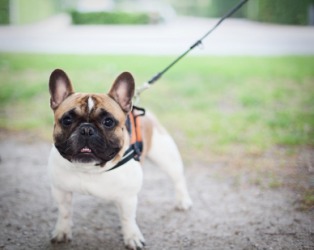 A little dog on a leash.
noun
The definition of a leash is a cord that holds an animal.

An example of a leash is a device for walking a dog.
verb
Leash is defined as to attach a cord to or to control with a cord.

An example of leash is to put a dog on a cord or strap for walking down the street.
---
leash
a cord, strap, etc. by which a dog or other animal is held in check

Hunting

a set of three, as of hounds; brace and a half
Origin of leash
Middle English
lese
from Old French
lesse
, length of cord, leash from
laissier
, to let, permit from
laxare
, to lighten, relieve from
laxus
, loose: see lax
to attach a leash to
to check or control by or as by a leash
hold in leash
to control; curb; restrain
strain at the leash
to be impatient to have freedom from restraint
---
leash
noun
a. A chain, rope, or strap attached to the collar or harness of an animal, especially a dog, and used to lead it or hold it in check.

b. A strap or cord attached to a harness worn by a small child, used to prevent the child from wandering off.

c. A strap, cord, or other line used to keep an object close to its user or in a designated location.

a. Control or restraint: emotions kept in leash.

b. A range of allowable behavior or responsibility: a husband kept on a short leash.

a. A set of three animals, such as hounds.

b. A set of three.
transitive verb
leashed, leash·ing, leash·es
To restrain with or as if with a leash.
Origin of leash
Middle English
lees, lesh
from
Old French
laisse
from
laissier
to let go
; see
lease
.
---
leash

---