noun
The definition of a choker is something tight around the neck, or someone who puts their hands tightly around a neck.

An example of a choker is tight necklace.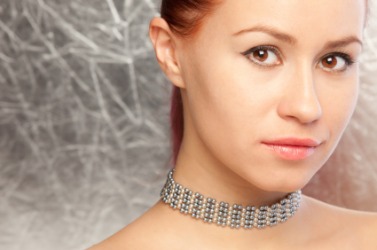 A woman wearing a pearl choker.
---
choker
noun
a person or thing that chokes
a necklace that fits closely around the neck
a narrow fur piece worn around the neck

Archaic

a wide neckcloth or stiff collar worn tight around the neck
---
choker
noun
One that chokes or suffocates another.
Something that fits closely around the neck or throat, as:

a. A tight-fitting necklace.

b. A high, tight collar.

c. A narrow neckpiece of fur.
choker
---
choker
Noun
(plural chokers)
​A piece of jewelry or ornamental fabric, worn as a necklace, tight to the throat.

2010, Alice Fisher, The Observer, 24 Oct 2010:

She appears on the 90th anniversary issue of French Vogue wearing nothing but a mask, gloves and a choker – everything but her now iconic gap-toothed pout and impressive cleavage is obscured.

One who, or that which, chokes or strangles.
(slang) Any disappointing or upsetting circumstance.

I lost £100 on the horses today — what a choker!

One who performs badly at a crucial stage of a competition because one is nervous, especially when winning.
---