pinch
pinch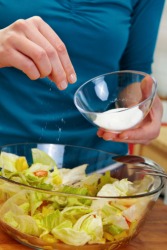 Adding a pinch of salt to a salad
adjective
The definition of a pinch is a substitute hitter or runner in baseball.

An example of pinch used as an adjective is in the phrase "pinch runner," which means one player who is running for another one.
noun
Pinch is defined as a squeeze, or a difficulty, or a tiny amount of something.

An example of a pinch is to use your thumb and index finger to squeeze the cheek of a small child.
An example of a pinch is a situation where a tough decision is required; to decide to do something in a pinch.
An example of a pinch is a tiny bit of salt in soup.
verb
Pinch means to squeeze between two surfaces, such as the thumb and a finger, or to pluck off the end of a plant, or to be frugal with money, or is slang for stealing.

An example of pinch is for a child to squeeze his brother's arm between his index finger and thumb.
An example of pinch is to pluck off a dead flower off a plant.
An example of pinch is to save every penny and spend nothing.
An example of pinch is to shoplift.
---
pinch
to squeeze between a finger and the thumb or between two surfaces, edges, etc.
to nip off the end of (a plant shoot), as for controlling bud development
to press painfully upon (some part of the body)
to cause distress or discomfort to
to cause to become thin, cramped, etc., as by hunger, pain, cold, etc.
to restrict closely; straiten; stint: usually in the passive voice

Slang

to steal
to arrest

Naut.

to sail (a vessel) too close to the wind when closehauled
Origin of pinch
Middle English
pinchen
; from Norman French an unverified form
pincher
; from Old French
pincier
; from Vulgar Latin an unverified form
pinctiare
; from uncertain or unknown; perhaps
punctiare,
to prick (see puncheon), influenced, influence by an unverified form
piccare:
see picador
to squeeze painfully

to be stingy or niggardly
to be frugal with expenses; economize

⌂

Mining

to become narrower; hence, to give (out): said of a vein of ore
a pinching; squeeze or nip

the quantity that may be grasped between the finger and thumb
a small amount

distress; hardship; difficulty
an emergency; urgent situation or time: now usually in the phrase

in a pinch

Slang

a theft
an arrest or police raid
Baseball
of or having to do with a substitute hitter or runner
Origin of pinch
see pinch
pinch pennies
to be very frugal or economical
---
pinch
verb
pinched
,
pinch·ing
,
pinch·es
verb
, transitive
To squeeze (something) between the thumb and a finger, the jaws of a tool, or other edges.
To cause pain or discomfort to (a part of the body) by pressing or being too tight: These shoes pinch my toes.
To nip, wither, or shrivel: buds that were pinched by the frost; a face that was pinched with grief.
To cause to be in difficulty or financial distress: "A year and a half of the blockade has pinched Germany" (William L. Shirer).
Slang To take (money or property) wrongfully. See Synonyms at steal.
Slang To take into custody; arrest.
To move (something) with a pinch bar.
Nautical To sail (a boat) so close into the wind that its sails shiver and its speed is reduced.
verb
, intransitive
To press, squeeze, or bind painfully: This collar pinches.
To draw a thumb and a finger together on a touchschreen to cause the image to become smaller.
To be frugal or miserly: If we pinch, we might save some money.
Nautical To drag an oar at the end of a stroke.
noun
The act or an instance of pinching.
An amount that can be held between thumb and forefinger: a pinch of salt.
Difficulty or hardship: felt the pinch of the recession.
An emergency situation: This coat will do in a pinch.
A narrowing of a mineral deposit, as in a mine.
Informal A theft.
Slang An arrest by a law enforcement officer.
adjective
Baseball
Relating to pinch-hitting or pinch runners: a pinch single; a pinch steal of third base.
Origin of pinch
Middle English
pinchen
, from Old North French
*pinchier
, variant of Old French
pincier
, perhaps from Vulgar Latin
*p&imacron;nctiare
.
---
pinch
Verb
(third-person singular simple present pinches, present participle pinching, simple past and past participle pinched)
To squeeze a small amount of a person's skin and flesh, making it hurt.

The children were scolded for pinching each other.
This shoe pinches my foot.

To steal, usually of something almost trivial or inconsequential.

Someone has pinched my handkerchief!

(horticulture) To cut shoots or buds of a plant in order to shape the plant, or to improve its yield.
(nautical) To sail so close-hauled that the sails begin to flutter.
(hunting) To take hold; to grip, as a dog does.
To seize; to grip; to bite; said of animals.
(figuratively) To cramp; to straiten; to oppress; to starve.

to be pinched for money

To move, as a railroad car, by prying the wheels with a pinch.
Noun
(plural pinches)
The action of squeezing a small amount of a person's skin and flesh, making it hurt.
A small amount of powder or granules, such that the amount could be held between fingertip and thumb tip.
An awkward situation of some kind (especially money or social) which is difficult to escape.
An organic herbal smoke additive.
Origin
From Middle English pinchen, from Anglo-Norman *pinchier (compare Old French pincer, pincier ("to pinch, find fault")), from Vulgar Latin *pincāre, a nasalised variant of Vulgar Latin *piccāre ("to pick, pierce"), from Frankish *pikkōn, from Proto-Germanic *pikōnÄ…, *pukanÄ… ("to pick, peck, prick, knock"), from Proto-Indo-European *beu-, *bu- ("to make a dull sound"). Cognate with Old English pȳcan, pician ("to pick, pluck"), Old Norse pikka ("to prick, peck"), Middle Dutch and Middle Low German picken ("to pick, peck, pierce"), German pochen ("to knock, pound, thump"). More at pick.
---