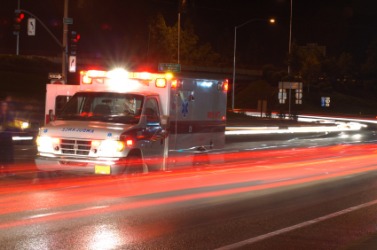 An ambulance responding to an emergency situation.
adjective
The definition of emergency is something that is for urgent needs or can be used when it is suddenly needed.

An example would be an emergency room, the part of a hospital where urgent care is given to the sick.
An example is an emergency brake, used for stopping a car very quickly.
noun
An emergency is defined as a sudden, unexpected situation that causes the need to take immediate action.

An example of an emergency is a sudden illness that needs a doctor's care.
An example of an emergency is a downed power line that must be repaired in the middle of the night.
---
emergency
noun
pl.
-·cies
a sudden, generally unexpected occurrence or set of circumstances demanding immediate action
Origin of emergency
origin, originally sense, "emergence": see emergence
for use in case of sudden necessity: an emergency brake
---
emergency
noun
pl.
e·mer·gen·cies
A serious situation or occurrence that happens unexpectedly and demands immediate action.
A condition of urgent need for action or assistance: a state of emergency.
adjective
For use during emergencies: emergency food rations.
---
emergency

Noun
(plural emergencies)
A situation which poses an immediate threat to human life or health and requires urgent assistance.
Cardiac arrest is an emergency and if you find someone in cardiac arrest you should call 999 immediately.
(Canada, US, often attributive) The department of a hospital that treats emergencies.
(archaic) The quality of being emergent; sudden or unexpected appearance; an unforeseen occurrence.
Adjective
(not comparable)
Related to the emergency or to the provision of assistance.

emergency vehicles
---