verb
To emerge is defined as to become more well known or more important, or to come into view.

An example of emerge is when a new actor gets discovered and becomes a famous movie star.
An example of emerge is when the sun comes out from the clouds.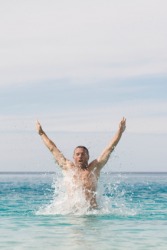 A swimmer emerges from the water.
---
emerge definition by Webster's New World
intransitive verb
emerged, emerging
to rise from or as from a surrounding fluid

to come forth into view; become visible
to become apparent or known

to develop or evolve as something new, improved, etc.: a strong breed emerged
Origin: Classical Latin emergere ; from e-, out plush mergere, to dip, immerse: see merge
Webster's New World College Dictionary Copyright © 2010 by Wiley Publishing, Inc., Cleveland, Ohio. Used by arrangement with John Wiley & Sons, Inc.
---
emerge definition by American Heritage Dictionary
intransitive verb
e·merged
,
e·merg·ing
,
e·merg·es
To rise from or as if from immersion: Sea mammals must emerge periodically to breathe.
To come forth from obscurity: new leaders who may emerge.
To become evident: The truth emerged at the inquest.
To come into existence. See Synonyms at appear.
Origin: Latin ēmergere : ē-, ex-, ex- + mergere, to immerse.