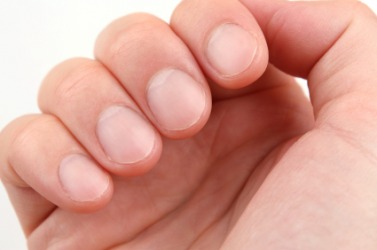 Nails on a mans fingers.
noun
The definition of a nail is a narrow piece of metal with a sharp point and usually with a flat head used for holding things together or hanging objects.

An example of a nail is what someone would hammer into the wall in order to hang a picture.

Nail is defined as a thin tough covering that grows from the tips of the fingers and toes.

An example of a nail is what would be cared for and painted during a manicure.
verb
Nail means to attach or join.

An example of to nail is joining two pieces of wood together while building a table.
---
nail
a thin, horny covering that grows out over the upper tip of a finger or toe
a similar growth on a toe of a bird, reptile, etc.; claw

a tapered piece of metal, commonly pointed and having a flattened head, driven with a hammer, and used to hold pieces or parts together, to hang things on, etc.
an old cloth measure, equal to 2 inches
Origin of nail
Middle English
naile
from Old English
nægl
, akin to German
nagel
from Indo-European base an unverified form
onogh
, nail from source Sanskrit
á?ghri-
, foot, Classical Greek
onyx
, nail, Classical Latin
unguis
, fingernail
to attach or fasten together or onto something else with or as with nails
to secure, hold, or fasten shut with nails
to fix (the eyes, attention, etc.) steadily on an object
to discover or expose (a lie, etc.)

Informal

to catch, capture, seize, or intercept

Informal

to hit squarely

Slang

to have sexual intercourse with; esp., to penetrate sexually: mildly vulgar

Slang

to execute or accomplish flawlessly: the gymnast nailed her routine
Origin of nail
ME
nailen
< OE
mæglan
hard as nails
callous, unfeeling, remorseless, etc.
hit the nail on the head
to do or say whatever is exactly right or to the point
nail down
to fasten tightly with nails

Informal

to settle definitely; clinch
nail up
to fasten with nails to a wall or at some height
to fasten (a door, window, etc.) tightly with nails
---
nail
noun
A slim, pointed piece of metal hammered into material as a fastener.

a. A fingernail or toenail.

b. A claw or talon.

Something resembling a nail in shape, sharpness, or use.
A measure of length formerly used for cloth, equal to 116 yard (5.7 centimeters).
transitive verb
nailed, nail·ing, nails
To fasten, join, or attach with or as if with a nail.
To cover, enclose, or shut by fastening with nails: nail up a window.
To keep fixed, motionless, or intent: Fear nailed me to my seat.
Slang

a. To stop and seize; catch: Police nailed the suspect.

b. To detect and expose: nailed the senator in a lie; nail corruption before it gets out of control.

Slang

a. To strike or bring down: nail a bird in flight; nail a running back.

b. To perform successfully or have noteworthy success in: nailed the dive; nailed the exam.

Baseball To put out (a base runner).
Vulgar Slang To have sexual intercourse with.
Phrasal Verbs:
nail down
To discover or establish conclusively:
nailed down the story by checking all the facts.
To win:
nailed down another victory in the golf tournament.
To specify or fix:
We were finally able to nail down a meeting time.
Origin of nail
Middle English
from
Old English
nægl
fingernail, toenail
; see
nogh-
in Indo-European roots.
Related Forms:
nail
left to right: common, finishing, ring, and roofing nails
---
nail

Noun
(plural nails)
The thin, horny plate at the ends of fingers and toes on humans and some other animals.

When I'm nervous I bite my nails.

The basal thickened portion of the anterior wings of certain hemiptera.
The terminal horny plate on the beak of ducks, and other allied birds.
A spike-shaped metal fastener used for joining wood or similar materials. The nail is generally driven through two or more layers of material by means of impacts from a hammer or other device. It is then held in place by friction.
One of the four round pedestals (the nails) in Bristol, on which merchants once carried out their business.
Origin
From Middle English nail, nayl, Old English næġel, from Proto-Germanic *naglaz (compare West Frisian neil, Low German Nagel, Dutch nagel, German Nagel, Danish negl, Swedish nagel), from Proto-Indo-European *h₃nogÊ°- ("nail") (compare Irish ionga, Latin unguis, Albanian nyell ("ankle, hard part of a limb"), Lithuanian nagas, Russian нога (nogá, "foot, leg"), ноготь (nogoti, "nail"), Ancient Greek ὄνυξ (ónyx), Persian ناخن (nâxon), Sanskrit नख (nakhá)).
Verb
(third-person singular simple present nails, present participle nailing, simple past and past participle nailed)
To fix (an object) to another object using a nail.

He nailed the placard to the post.

(intransitive) To drive a nail.

He used the ax head for nailing.

(slang) To catch.
(slang) To expose as a sham.
(slang) To accomplish (a task) completely and successfully.

I really nailed that test.

(slang) Of a male, to engage in sexual intercourse with.

There's a benefit gala at the Boston Pops tonight, and... well, I'm trying to nail the flautist. - Brian Griffin in the TV series Family Guy
Origin
From Old English næġlan
---