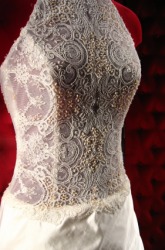 A white dress with a lace bodice.
noun
The definition of a bodice is the part of a woman's dress above the waist, or a vest that often laces up.

A lace-up corset that a woman wears over her stomach and breast-area is an example of a bodice.
---
bodice
the upper part of a woman's dress
a kind of vest formerly worn over a blouse or dress by women or girls, usually laced in front

Archaic

a corset
Origin of bodice
altered from
bodies,
plural of body, in obsolete sense of "part of dress above the waist"
---
bodice
noun
The fitted part of a dress that extends from the waist to the shoulder.
A woman's laced outer garment, worn like a vest over a blouse.
Obsolete A corset.
Origin of bodice
Alteration of
bodies
pl. of
body
---
bodice

Noun
(plural bodices)
An article of clothing for women, covering the body from the neck to the waist, lacking sleeves or with detachable sleeves.
A woman's blouse-like garment, especially with European folk dress.
The upper portion of a one- or two-piece dress, in distinction to the skirt and sleeves.
(archaic) A kind of under waist stiffened with whalebone, etc., worn especially by women; a corset; stays.
---