pajamas
[pə jä′məz, -jam′əz]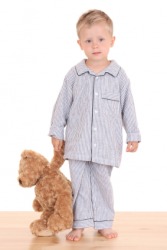 A little boy in his pajamas.
---
pajamas
plural noun
a pair of loose silk or cotton trousers worn originally in the Near East
a loosely fitting sleeping or lounging suit consisting of top and trousers
Origin of pajamas
Hindi
pājāma
; from Persian
pāi,
a leg (; from Indo-European an unverified form
ped-,
foot) +
jāma,
garment
---
pajamas
Noun
(normally plural, singular pajama)
Clothes for wearing to bed and sleeping in, usually consisting of a loose-fitting shirt and pants/trousers.
Origin
From Urdu/Hindi پایجامه (pāyjāma) / पैजामा (payjāmā), from Persian پايجامه / پاجامه (pāyjāma / pājāma, "leg garment").
---