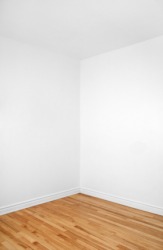 The corner of an empty room.
adjective
The definition of corner is at an area where two lines or surfaces meet.

An example of corner used as an adjective is in the phrase "corner store," which means a store where two streets meet each other.
noun
A corner is defined as a place where lines or sides join together to form an angle, or a remote or secluded place.

An example of a corner is where two walls in a room come together.
An example of a corner is searching an uncharted area of the earth; searching every corner of the city.
verb
Corner means to force into an awkward or tight spot, to get the most of something, or to make turns in a vehicle.

An example of corner is to back an opponent up against the intersection of two walls; to corner the opponent.
An example of corner is to buy all the available units of a certain product at a grocery store; to corner the market on the item.
An example of corner is to turn the steering wheel to the left or right to test the turning capability of a car; to test how the car corners.
---
corner
the point or place where lines or surfaces join and form an angle
the area or space within the angle formed at the joining of lines or surfaces: the corner of a room
the area at the tip of any of the angles formed at a street intersection
something used to form, mark, protect, or decorate a corner
a remote, secret, or secluded place: look in every nook and corner
region; quarter; part: every corner of America
an awkward position from which escape is difficult: driven into a corner
a monopoly acquired on a stock or a commodity so as to be able to control the price

Boxing

any of the four areas in the ring where the ropes meet to form 90° angles, esp., either of two such areas at opposite ends of the ring, used by the boxers between rounds for rest and medical attention

Football

cornerback
Origin of corner
Middle English from Old French
corniere
from Medieval Latin
cornerium
from Classical Latin
cornu,
projecting point, horn
to drive or force into a corner or awkward position, so that escape is difficult
to get a monopoly on (a stock or commodity)
to meet at or abut (on) a corner: said of land, buildings, etc.
to turn corners: said of a vehicle: a car that corners easily
at or on a corner: a corner store
used in a corner: a corner table
around the corner
in the immediate vicinity or future
cut corners
to take a direct route by going across corners
to cut down expenses, time, labor, etc.
in someone's corner
allied with or supporting someone
Origin of corner
in ref. to corner (noun), the place where a boxer's seconds wait just outside the ring
out of the corner of one's eye
by means of one's peripheral vision
the (four) corners of the earth
the farthest parts of the earth
turn the corner
to get safely past the critical point
---
corner
noun
a. The position at which two lines, surfaces, or edges meet and form an angle: the four corners of a rectangle.

b. The area enclosed or bounded by an angle formed in this manner: sat by myself in the corner; the corner of one's eye.

The place where two roads or streets join or intersect.

a. Sports Any of the four angles of a boxing or wrestling ring where the ropes are joined.

b. Baseball Either side of home plate, toward or away from the batter.

c. A corner kick in soccer.

d. Football A cornerback.

A threatening or embarrassing position from which escape is difficult: got myself into a corner by boasting.
A remote, secluded, or secret place: the four corners of the earth; a beautiful little corner of Paris.
A part or piece made to fit on a corner, as in mounting or for protection.

a. A speculative monopoly of a stock or commodity created by purchasing all or most of the available supply in order to raise its price.

b. Exclusive possession; monopoly: "Neither party … has a corner on all the good ideas" ( George B. Merry )
verb
cor·nered, cor·ner·ing, cor·ners
verb
transitive
To place or drive into a corner: cornered the thieves and captured them.
To form a corner in (a stock or commodity): cornered the silver market.
To furnish with corners.
verb
intransitive
To turn, as at a corner: a truck that corners poorly.
To come together or be situated on or at a corner.
adjective
Located at a street corner: a corner drugstore.
Designed for use in a corner: a corner table.
Origin of corner
Middle English
from
Anglo-Norman
from
Old French
corne
corner, horn
from
Vulgar Latin
corna
from
Latin
cornua
pl. of
cornū
horn, point
; see
ker-
1
in Indo-European roots.
---
corner

Noun
(plural corners)
The point where two converging lines meet; an angle, either external or internal.

The corners of the wire mesh were reinforced with little blobs of solder.

The space in the angle between converging lines or walls which meet in a point.

The chimney corner was full of cobwebs.

The projection into space of an angle in a solid object.

Herbert bruised his shin on the corner of the coffee table.

An intersection of two streets; any of the four outer points off the street at that intersection.

The liquor store on the corner also sold lottery tickets.

An edge or extremity; the part farthest from the center; hence, any quarter or part, or the direction in which it lies.

Shining a light in the dark corners of the mind
I took a trip out to his corner of town.

A secret or secluded place; a remote or out of the way place; a nook.

On weekends, Emily liked to find a quiet corner and curl up with a good book.

(business, finance) A monopoly or controlling interest in a salable commodity, allowing the controlling party to dictate terms of sale.

In the 1970s, private investors tried to get a corner on the silver market, but were ultimately unsuccessful.

(baseball) One of the four vertices of the strike zone.

The pitch was just off the corner, low and outside.

(baseball) First base or third base.

There are runners on the corners with just one out.

(soccer) A corner kick.
Verb
(third-person singular simple present corners, present participle cornering, simple past and past participle cornered)
Origin
From Middle English corner, from Anglo-Norman cornere (compare Old French cornier, corniere ("corner")), from Old French corne ("corner, angle", literally "a horn, projecting point"), from Vulgar Latin *corna ("horn"), from Latin cornua, plural of cornū ("projecting point, end, horn"). More at hirn.
See also:
córner
---