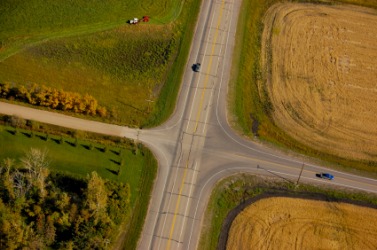 The junction of two country roads.
noun
The definition of a junction is a place where things join or cross.

An example of a junction is where one highway crosses another.
---
junction
a joining or being joined
a place or point of joining or crossing, as of highways or railroads
an interface between materials having different characteristics, as the pn junction in a semiconductor or the boundary between two metals in a thermocouple
Origin of junction
Classical Latin
junctio
from
jungere,
to join
---
junction
noun
The act or process of joining or the condition of being joined.
A place where two things join or meet, especially a place where two roads or railway routes come together and one terminates.
A transition layer or boundary between two different materials or between physically different regions in a single material, especially:

a. A connection between conductors or sections of a transmission line.

b. The interface between two different semiconductor regions in a semiconductor device.

c. A mechanical or alloyed contact between different metals or other materials, as in a thermocouple.
Origin of junction
Latin
iūnctiō
iūnctiōn-
from
iūnctus
past participle of
iungere
to join
; see
yeug-
in Indo-European roots.
Related Forms:
---
junction

Origin
From Latin iūnctiō ("union, joining, uniting"), from iungō ("join, attach together").
---
junction - Computer Definition
The point at which two elements make contact. In a transistor, a junction is the point where an N-type material makes contact with a P-type material.
---