noun
The definition of lattice is a structure made from wood or metal pieces arranged in a criss-cross or diamond pattern with spaces in between.

A metal fence that is made up of pieces of metal arranged in criss-cross patterns with open air in between the pieces of metal is an example of lattice.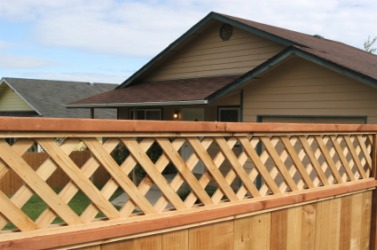 Lattice work atop a fence.
---
lattice definition by Webster's New World
noun
an openwork structure of crossed strips or bars of wood, metal, etc. used as a screen, support, etc.
something resembling or suggesting such a structure
a door, gate, shutter, trellis, etc. formed of such a structure

Physics

a three-dimensional pattern of points in space, as of atoms or groups of atoms in a solid or crystal
space lattice
the arrangement in a geometric pattern of fissionable and nonfissionable material in a nuclear reactor
Origin: Middle English latis ; from Old French lattis ; from latte ; from Middle High German ; from Old High German latta: see lath
Webster's New World College Dictionary Copyright © 2010 by Wiley Publishing, Inc., Cleveland, Ohio. Used by arrangement with John Wiley & Sons, Inc.
---
lattice definition by American Heritage Dictionary
noun
a. An open framework made of strips of metal, wood, or similar material overlapped or overlaid in a regular, usually crisscross pattern.

b. A structure, such as a window, screen, or trellis, made of or containing such a framework.

Something, such as a decorative motif or heraldic bearing, that resembles an open, patterned framework.
Physics

a. A regular, periodic configuration of points, particles, or objects throughout an area or a space, especially the arrangement of ions or molecules in a crystalline solid.

b. The spatial arrangement of fissionable and nonfissionable materials in a nuclear reactor.
transitive verb
lat·ticed
,
lat·tic·ing
,
lat·tic·es
To construct or furnish with a lattice or latticework.
Origin: Middle English latis, from Old French lattis, from latte, lath, of Germanic origin .
Related Forms:
The American Heritage® Dictionary of the English Language, 4th edition Copyright © 2010 by Houghton Mifflin Harcourt Publishing Company. Published by Houghton Mifflin Harcourt Publishing Company. All rights reserved.
---
lattice - Science Definition
A set of points that, when joined together, form the geometric shape of a mineral crystal. The lattice of the mineral halite, for example, is in the shape of a cube. See more at
crystal
.