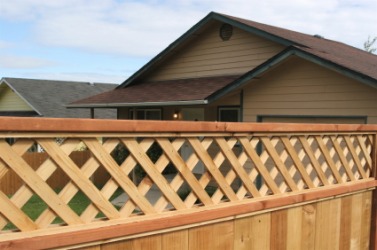 Lattice work atop a fence.
noun
The definition of lattice is a structure made from wood or metal pieces arranged in a criss-cross or diamond pattern with spaces in between.

A metal fence that is made up of pieces of metal arranged in criss-cross patterns with open air in between the pieces of metal is an example of lattice.
---
lattice
an openwork structure of crossed strips or bars of wood, metal, etc. used as a screen, support, etc.
something resembling or suggesting such a structure
a door, gate, shutter, trellis, etc. formed of such a structure

Physics

a three-dimensional pattern of points in space, as of atoms or groups of atoms in a solid or crystal
space lattice
the arrangement in a geometric pattern of fissionable and nonfissionable material in a nuclear reactor
Origin of lattice
Middle English
latis
from Old French
lattis
from
latte
from Middle High German from Old High German
latta
: see lath
transitive verb
-·ticed

,

-·tic·ing
to arrange like a lattice; make a lattice of
to furnish or cover with a lattice or latticework
---
lattice
noun
a. An open framework made of strips of metal, wood, or similar material overlapped or overlaid in a regular, usually crisscross pattern.

b. A structure, such as a window, screen, or trellis, made of or containing such a framework.

Something, such as a decorative motif or heraldic bearing, that resembles an open, patterned framework.
Physics

a. A regular, periodic configuration of points, particles, or objects throughout an area or a space, especially the arrangement of ions or molecules in a crystalline solid.

b. The spatial arrangement of fissionable and nonfissionable materials in a nuclear reactor.
transitive verb
lat·ticed, lat·tic·ing, lat·tic·es
To construct or furnish with a lattice or latticework.
Origin of lattice
Middle English
latis
from
Old French
lattis
from
latte
lath
of Germanic origin
Related Forms:
---
lattice

Verb
(third-person singular simple present lattices, present participle latticing, simple past and past participle latticed)
To make a lattice of.

to lattice timbers

To close, as an opening, with latticework; to furnish with a lattice.

to lattice a window
Origin
From Middle English latis, from Middle French lattis ("lathing"), from Old French lattis, from latte ("a lath"), from Frankish *latta ("a lath"), from Proto-Germanic *lattō(n), *laþþō(n), *laþēn ("lath, board"), from Proto-Indo-European *(s)lat- ("beam, log"). Cognate with Old High German latta (German Latte, "lath"), Old English lætt ("lath"), Middle Low German lāde ("plank, counter, sales counter"), German Laden ("shop"). More at lath.
---