noun
The definition of a cloak is a long loose fitting piece of clothing worn over other clothes, sometimes with a hood and loose fitting arm holes.

An example of a cloak is the cape that the Jedi wear in Star Wars.
verb
To cloak is defined as to cover or hide.

An example of to cloak is for a celebrity to wear a big hat and sunglasses so they aren't recognized in public.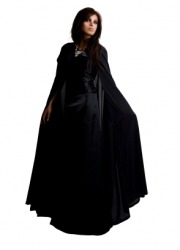 A woman wearing a long black cloak.
---
cloak definition by Webster's New World
noun
a loose outer garment, usually sleeveless and extending to or below the knees
something that covers or conceals; disguise
Origin: Middle English cloke, cloak ; from Old French ; from Midieval Latin clocca (see clock), a bell, cloak: so called from its bell-like appearance
transitive verb
to cover with or as with a cloak
to conceal; hide
Webster's New World College Dictionary Copyright © 2010 by Wiley Publishing, Inc., Cleveland, Ohio. Used by arrangement with John Wiley & Sons, Inc.
---
cloak definition by American Heritage Dictionary
noun
A loose outer garment, such as a cape.
Something that covers or conceals: a cloak of secrecy.
transitive verb
cloaked
,
cloak·ing
,
cloaks
Origin: Middle English cloke, from Old North French cloque, cloak, bell (from its shape), from Medieval Latin clocca; see clock1.