cloak
cloak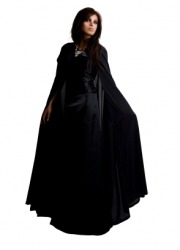 A woman wearing a long black cloak.
noun
The definition of a cloak is a long loose fitting piece of clothing worn over other clothes, sometimes with a hood and loose fitting arm holes.

An example of a cloak is the cape that the Jedi wear in Star Wars.
verb
To cloak is defined as to cover or hide.

An example of to cloak is for a celebrity to wear a big hat and sunglasses so they aren't recognized in public.
---
cloak
a loose outer garment, usually sleeveless and extending to or below the knees
something that covers or conceals; disguise
Origin of cloak
Middle English
cloke,
cloak ; from Old French ; from Medieval Latin
clocca
(see clock), a bell, cloak: so called from its bell-like appearance
to cover with or as with a cloak
to conceal; hide
---
cloak
noun
A loose outer garment, such as a cape.
Something that covers or conceals: a cloak of secrecy.
transitive verb
cloaked
,
cloak·ing
,
cloaks
To cover or conceal with a cloak or something that acts like a cloak:
mist that cloaks the mountains.
See Synonyms at
disguise
,
hide
1
.
Origin of cloak
Middle English
cloke
, from Old North French
cloque
,
cloak, bell (from its shape)
, from Medieval Latin
clocca
; see
clock
1
.
---
cloak
Noun
(plural cloaks)
A long outer garment worn over the shoulders covering the back; a cape, often with a hood.
A blanket-like covering, often metaphorical.

Night hid her movements with its cloak of darkness.

(figuratively)  That which conceals; a disguise or pretext.
(Internet)  A text replacement for an IRC user's hostname or IP address, making the user less identifiable.
Verb
(third-person singular simple present cloaks, present participle cloaking, simple past and past participle cloaked)
To cover as with a cloak.
(science fiction, intransitive) To render or become invisible via futuristic technology.

The ship cloaked before entering the enemy sector of space.
Origin
From Old Northern French cloque ("travelling cloak"), from Medieval Latin clocca, ("travelers' cape", literally "a bell", so called from the garment's bell-like shape).
---