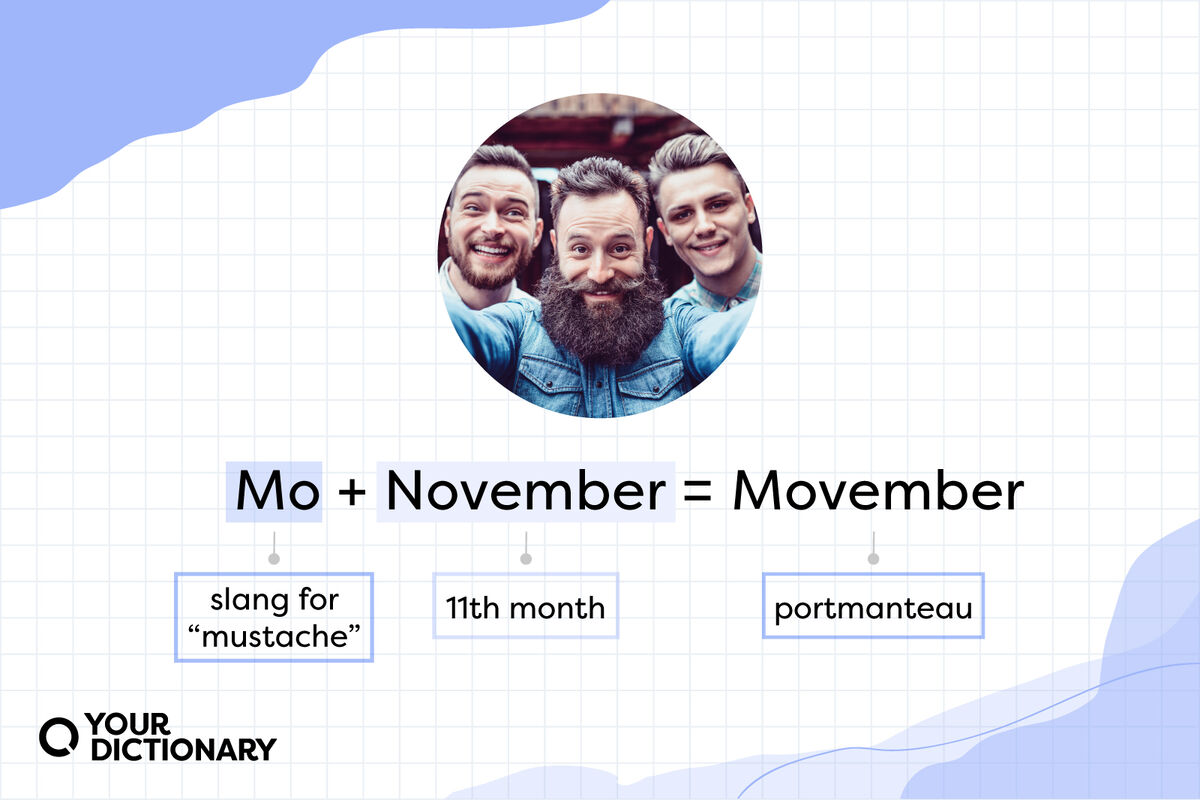 From brunch to athleisure, portmanteaus have become an everyday part of existence. In practical terms, they're convenient, but they're also a cool look at the way language can flex and form to our needs. Portmanteaus have become so commonplace that they tend to be the go-to for naming things, even holidays and events. From Movember to Halloween, knowing these names can help you learn our weird language and impress your friends along the way.
When two (or more) words love each other very much, they sometimes join together and birth a whole new word that combines some of the sounds and letters of the original words. That wonderful new bundle of joy is known as a portmanteau.
Portmanteau is itself a portmanteau. Outside of linguistics, a portmanteau is "a type of carrying case or bag." Porte, an imperative form of the verb porter for "to carry," and manteau, meaning "cloak," joined to form the Middle French word portemanteau, which initially referred to "a person who carried a prince's mantle (or cloak)."
Why Do We Make Portmanteau Words?
For no reason, for any reason, for edutainment (another portmanteau!). Portmanteaus have existed for nearly as long as we've had language. It's a form of creative expression as much as it is a means of saving characters for a tweet.
Take Movember. Even though it's two different words, it's really just November with the "N" changed to an "M," making it easy for people to at least figure out the pronunciation even without context. By comparison, you have the similar campaign of No-Shave November. It's a mouthful of a name with extra syllables and a compound adjective.
Why Do We Use Portmanteaus To Name Holidays?
Much like explaining the existence of portmanteaus in general, there isn't any singular reason we use portmanteaus to name certain holidays. Some come from a natural evolution of language, both written and spoken. 
For other holidays, the portmanteau naming convention is a convenient reminder for when that holiday happens. With Movember, for example, you get that the holiday happens in November.
We also live in an increasingly diverse world where people have different beliefs, customs, and traditions. Portmanteaus are a neat way of mixing those different cultural elements together in a fun but inviting way.
Events With Portmanteau Names
Thanks to the convenience and word fun of portmanteaus, they've become a go-to naming convention for many official (and unofficial) events and celebrations. If it's any indication, the next time you need to name your event, just take a fun word and combine it with the name of the month.
Movember is a portmanteau that combines the word mo (a slang term for mustaches that is common in Australia) with November (the eleventh month in the standard Gregorian calendar).
Movember was the brainchild of Travis Garone and Luke Slattery, two buds from Melbourne, Australia. The two friends wondered at the absence of the mustache in modern fashion. It was 2003, a time when the clean-shaven look was preferred over face whiskers.
That thought led to a group of 30 other buddies growing out mustaches over the course of November with a goal of raising awareness and money for men's health, particularly prostate and testicular cancer.
Since then, the Movember campaign has gone global, gaining support from over 6 million people.
While October is most known for beginning the autumn season and introducing the spooky, scary vibes of Halloween, it's also a great month for artists of all forms and media thanks to Inktober.
Initially starting in 2009, Inktober is an art challenge that requires you to create (and share) a drawing every day for the month of October, often from a list of prompts. While the creator and trademarking issues have led to some controversies, the idea of it still holds strong among illustrators and designers.
True to the name, Inktober is supposed to involve using traditional physical inks, whether that's from your fanciest fountain pen or an everyday ballpoint. That's part of where the challenge comes from. Along with the difficulty of creating art every single day, ink has that sense of permanence (no matter how much Wite-Out you use).
Because English is such a magical language, Movember isn't even the only occasion or holiday formed out of a portmanteau. To be honest, it's probably not the last either!
Juneteenth marks the official end of slavery in the United States when General Granger read General Order 3 to the people of Galveston, Texas, on June 19, 1865. The word Juneteenth is a portmanteau of June and nineteenth.
Technically, Thanksgiving is a compound word made of thanks and giving. But Thanksgivukkah, a combination of Thanksgiving and Hanukkah, is a portmanteau. It's a way to note when Thanksgiving and the Jewish Festival of Lights overlap, but that won't happen soon. The next time the two holidays will overlap is the year 2070 and then the year 2175.
For those who can't be with their families during Thanksgiving or want another dinner celebration in addition to Thanksgiving, there's always Friendsgiving. Friendsgiving combines friends with Thanksgiving, creating an unofficial holiday that focuses on eating good food with your friends (and chosen family).
For interfaith families, Chrismukkah combines Christmas and Hanukkah, which tend to overlap more often than Thanksgiving and Hanukkah.
Deeparaya is a combination of Deepavali or Diwali (celebrated by Hindus) and Hari Raya (celebrated by Muslims). This portmanteau is mostly common in Malaysia and Singapore.
Halloween actually comes from a combination of hallow and e'en. E'en is a shortening of even or evening. It's a reference to All Hallow's Eve.