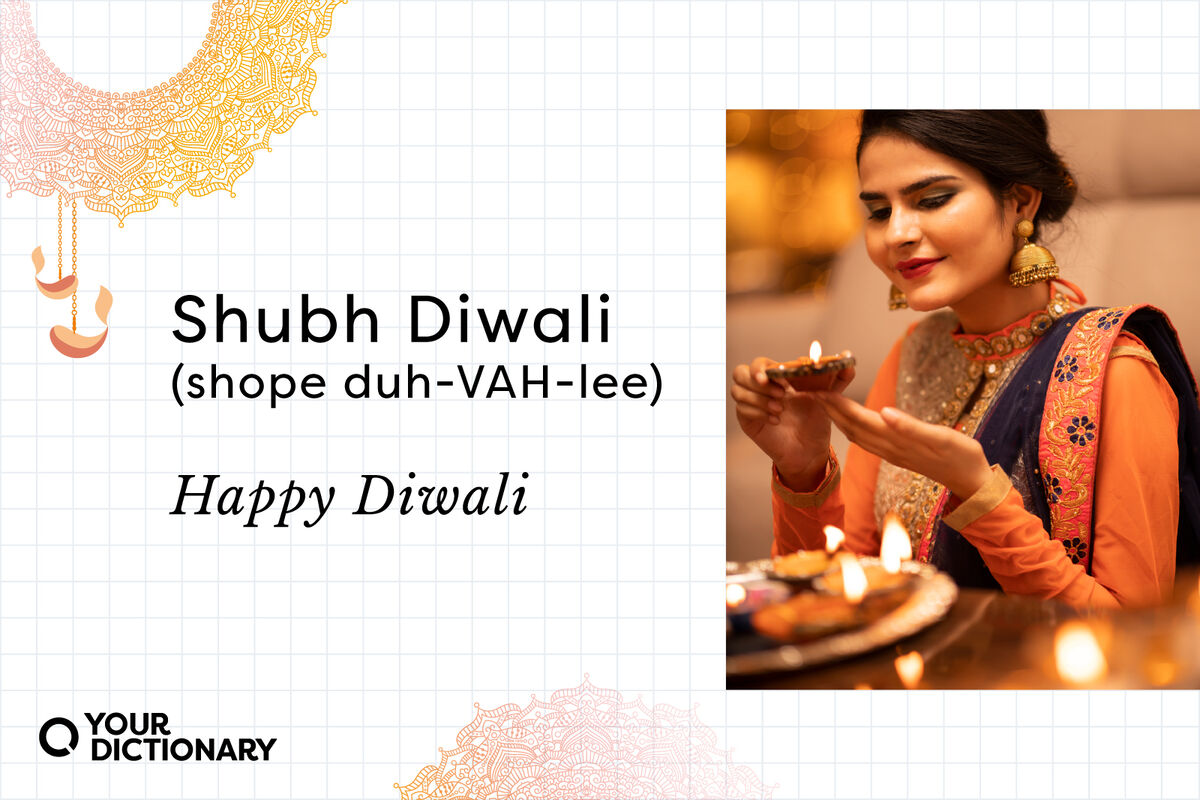 Diwali, or Deepawali, is one of the most popular and culturally important festivals in India. It's a celebration that overlaps with Hindus, Sikhs, Jains, and some Buddhists. The five-day festival of lights goes by the Hindu calendar, coinciding with Amavasya (the new moon) of the month of Kartik. In the Gregorian calendar, it typically lands in November, on the darkest night of the year. If you don't know how to greet your loved ones during Diwali, this is a great place to get started to show you care!
Diwali, which is pronounced "duh-VAH-lee," is rooted in the Sanskrit word deepavali. Deepavali means "row or series of lights," a reference to the lighting of clay lamps outside homes, shops, and public spaces in India during the festival. This symbolizes the holiday's general theme of good triumphing over evil and inner light protecting from darkness. The lights are also said to invite Lakshmi, the Hindu goddess of wealth and good fortune, into people's homes.
Diwali focuses on religion, culture, and prayer, but let's not forget that it's also supposed to be a fun festival full of lights, fireworks, parades, and dance performances. People exchange gifts, eat incredible meals, and otherwise have fun with friends and family. It never hurts to greet someone who you know is celebrating Diwali, and there are plenty of ways to do it.
If you're not sure what to say or you're worried about pronunciation, stick with "Happy Diwali." It's the most common English greeting for Diwali. It's a good, well-meaning phrase, and you can add a little extra to it or make some slight variations to make it more personal, including:
Have a happy Diwali!
Happy Diwali! Thank you for being such a great friend!
Happy Diwali! I hope you experience a ton of good luck in the coming year.
Shubh Diwali (pronounced "shope duh-VAH-lee") simply translates to "Happy Diwali" in Hindi. It's one of the most popular Diwali greetings in India, and it's an easy, go-to greeting.
Diwali Mubarak (pronounced "duh-VAH-lee moo-BAR-ik") is an Urdu greeting for Diwali. Mubarak is an Arabic word meaning "blessed," but it is also a greeting, something similar to "congratulations." For example, Eid Mubarak is a pretty standard greeting during either of the Eid holidays in Islam.
The phrase Diwali Mubarak has come under some scrutiny in the past, but most supporters state that if you're okay saying Happy Diwali, you shouldn't have a problem with Diwali Mubarak.
Nothing beats a sincere Happy Diwali, but if you have the time, it doesn't hurt to come up with a slightly longer greeting. For example:
Have a happy and blessed Diwali.
I hope you have a fun and festive Diwali!
May all your wishes come true this Diwali!
I hope this Diwali is full of as much light and joy as you are.
May the lights of Diwali remove all the darkness in your life.
I hope Lakshmi blesses you and your family with joy and good fortune.
If I can't brighten your day, I hope a good Diwali does!
I hope your Diwali is full of love and blessings.
I hope the new year brings you plenty of good fortune, good food, and fun adventures.
May Lakshmi bring you good luck and blessings.
May your home be full of light this Diwali!
Poems, Blessings, and Other Rare Greetings
Some people who celebrate Diwali may replace greetings with lengthy poems and quotes from religious texts. While the right person might appreciate that, this is pretty rare and not something you need to worry about.
Think about it as the difference between someone saying Happy Birthday to you and someone reciting a whole poem to you. It's not unappreciated, but it might be a little awkward. Stick with Happy Diwali.
The specifics of the festival will vary from religion to religion, culture to culture. For Hindus, Diwali celebrates the return of Rama and Sita (two deities) to the ancient city of Ayodhya after their exile.
Sikhs technically don't celebrate Diwali, but they do celebrate Bandi Shor Divas (translating to "Prisoner Release Day"), which overlaps with Diwali celebrations. The holiday marks the founding of the city of Amritsar in 1577 and the release of Guru Hargobind Sahib Ji from prison in 1619.
For Jains, Diwali celebrates Tirthankar Mahavira's attainment of moksha (or salvation) and his contributions to humanity.
*To ensure accuracy, this article was reviewed by an employee at LoveToKnow Media who is native to India.