noun
The definition of a clock is a device for measuring and showing the time of day, or a decoration on the side of a sock or stocking coming up from the ankle.

An example of a clock is a watch.
An example of a clock is a piece of embroidery on a sock.
verb
Clock means to measure speed or time.

An example of clock is to record how long it takes a runner to finish a marathon.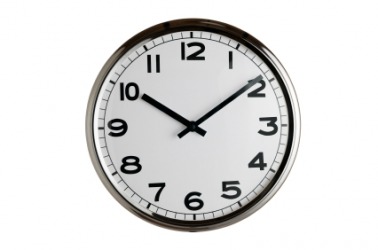 A classic wall clock.
---
clock definition by Webster's New World
noun
a device used for measuring and indicating time, usually by means of pointers moving over a dial: clocks, unlike watches, are not meant to be worn or carried about
☆ time clock
a measuring or recording device suggestive of a clock, as a taximeter
Origin: Middle English clokke, origin, originally , clock with bells ; from Midieval Latin clocca, bell ; from Celtic as in Old Irish cloc (from source Old English clugge, Old High German glocka), bell ; from uncertain or unknown; perhaps Indo-European base an unverified form kel-, to cry out, sound from source clamor
transitive verb
to measure the speed or record the time of (a race, runner, motorist, etc.) with a stopwatch or other timing device
to measure (work done, distance covered, etc.) with a registering device
noun
a woven or embroidered ornament on the side of a sock or stocking, going up from the ankle
Origin: ; from uncertain or unknown; perhaps clock, because of origin, originally bell shape
Webster's New World College Dictionary Copyright © 2010 by Wiley Publishing, Inc., Cleveland, Ohio. Used by arrangement with John Wiley & Sons, Inc.
---
clock definition by American Heritage Dictionary
noun
An instrument other than a watch for measuring or indicating time, especially a mechanical or electronic device having a numbered dial and moving hands or a digital display.
A time clock.
A source of regularly occurring pulses used to measure the passage of time, as in a computer.
Any of various devices that indicate measurement, such as a speedometer or a taximeter.
A biological clock.
Botany The downy flower head of a dandelion that has gone to seed.
verb
clocked
clocked
,
clock·ing
,
clocks
verb
, transitive
To time, as with a stopwatch: clock a runner.
To register or record with a mechanical device: clocked the winds at 60 miles per hour.
verb
, intransitive
To record working hours with a time clock: clocks in at 8 A.M. and out at 4 P.M.
Origin: Middle English clokke, from Old North French cloque, bell, or from Middle Dutch clocke, bell, clock, both from Medieval Latin clocca, of imitative origin.
Related Forms:
noun
An embroidered or woven decoration on the side of a stocking or sock.
Origin: Perhaps from clock1, bell (obsolete), from its original bell-shaped appearance.
The American Heritage® Dictionary of the English Language, 4th edition Copyright © 2010 by Houghton Mifflin Harcourt Publishing Company. Published by Houghton Mifflin Harcourt Publishing Company. All rights reserved.
---
clock - Computer Definition
An internal timing device. Using a quartz crystal, the CPU clock breathes life into the microprocessor by feeding it a constant flow of pulses. For example, a 200 MHz CPU receives 200 million pulses per second from the clock. A 2 GHz CPU gets two billion pulses per second. Similarly, in a communications device, a clock is used to set the transmission speed and may also be used to synchronize the pulses between sender and receiver. A "real-time clock," also called the "system clock," keeps track of the time of day and makes this data available to the software. A "timesharing clock" interrupts the CPU at regular intervals and allows the operating system to divide its time between active users and/or applications. See per clock, clockless computing and MHz.
Computer Desktop EncyclopediaTHIS DEFINITION IS FOR PERSONAL USE ONLYAll other reproduction is strictly prohibited without permission from the publisher.© 1981-2014 The Computer Language Company Inc. All rights reserved.
---
clock - Phrases/Idioms
around the clock
day and night without stopping
around
/round
the clock
Throughout the entire 24 hours of the day; continuously.
clean (someone's) clock
Slang
To beat or defeat decisively:
"Immense linemen declared their intentions to clean the clocks of opposing players"
(Russell Baker).
kill
/run out
the clock
Sports
To preserve a lead by maintaining possession of the ball or puck until playing time expires.