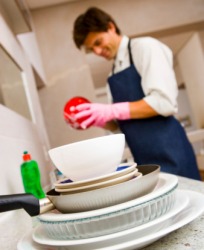 Mark didn't realize how much housework his wife did until she went out of town for a week.
verb
Realize is defined as to achieve or fully understand.

An example of to realize is to finally understand the meaning of a poem.
---
realize
transitive verb
-·ized·

,

-·iz·ing
to make real; bring into being; achieve
to make appear real
to understand fully; apprehend
to convert (assets, rights, etc.) into money
to gain; obtain: to realize a profit
to be sold for, or bring as profit (a specified sum)
Origin of realize
real (adjective) + -ize, after French
réaliser
---
realize
verb
re·al·ized, re·al·iz·ing, re·al·iz·es
verb
transitive
To comprehend completely or correctly.
To bring into reality; make real: He finally realized his lifelong ambition to learn how to play the violin.
To make realistic: a film that realizes court life of the 1600s.
To obtain or achieve, as gain or profit: She realized a substantial return on the investment.
To bring in (a sum) as profit by sale.
verb
intransitive
To exchange holdings or goods for money.
Origin of realize
French
réaliser
from
Old French
from
real
real
; see
real
1
.
Related Forms:
---
realize

Verb
(third-person singular simple present realizes, present participle realizing, simple past and past participle realized)
---