reel

reel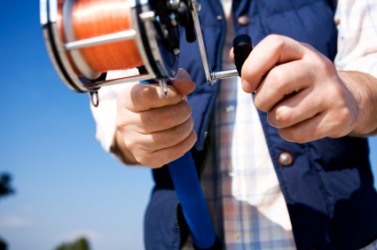 A man uses a fishing reel.
noun
The definition of a reel is a turning mechanism to wind something up.

An example of a reel is the winder for fishing line on a pole.

A reel is defined as a spool where things are wound.

An example of a reel is a metal holder on which a film is stored.
verb
Reel means to go around and around.

An example of to reel is turning the handle on fishing pole to bring the fishing line back.

To reel is defined as to fall backwards with a dizzy feeling.

An example of to reel is to respond to very upsetting news by stumbling in confusion.
---
reel
to give way or fall back; sway, waver, or stagger as from being struck
to lurch or stagger about, as from drunkenness or dizziness
to go around and around; whirl
to feel dizzy; have a sensation of spinning or whirling
Origin of reel
Middle English
relen
from the noun : from the sensation of whirling
a reeling motion; whirl, stagger, etc.
Origin of reel
ME
rele
< OE
hreol:
see reel
a lively Scottish dance
Virginia reel

music for either of these
Origin of reel
probably from reel, noun
a frame or spool on which thread, wire, tape, film, a net, etc. is wound
such a frame set on the handle of a fishing rod, to wind up or let out the line
the quantity of wire, thread, film, tape, etc. usually wound on one reel
in some lawn mowers, a set of spiral steel blades rotating on a horizontal bar set between wheels
Origin of reel
Middle English from Old English
hreol
from Germanic an unverified form
hrehulaz
from Indo-European base an unverified form
krek-,
to strike, make a weaving motion from source Classical Greek
krekein,
to weave, Latvian
krekls,
shirt
reel in
to wind on a reel
to pull in (a fish) by winding a line on a reel
reel off
to tell, write, produce, etc. easily and quickly
(right) off the reel
without hesitation or pause
---
reel
noun
A device, such as a cylinder, spool, or frame, that turns on an axis and is used for winding and storing rope, tape, film, or other flexible materials.
A cylindrical device attached to a fishing rod to let out or wind up the line.
The quantity of wire, film, or other material wound on one reel.
A set of curved lawn-mower blades that rotate around a bar parallel to the ground, cutting grass while moving against a stationary straight blade.
transitive verb
reeled, reel·ing, reels
To wind on or let out from a reel.
To recover by winding on a reel: reel in a large fish.
Phrasal Verbs:
reel off
To recite fluently and usually at length:
reeled off a long list of names and dates.
Origin of reel
Middle English
from
Old English
hrēol
Related Forms:
verb
reeled, reel·ing, reels
verb
intransitive
To be thrown off balance or fall back: reeled from the sharp blow.
To stagger, lurch, or sway, as from drunkenness: reeled down the alley.
To go round and round in a whirling motion: gulls reeling and diving.
To feel dizzy: My head reeled with the facts and figures.
verb
transitive
To cause to reel.
noun
A staggering, swaying, or whirling movement.

a. A moderately fast dance of Scottish origin.

b. The Virginia reel.

c. The music for one of these dances.
Origin of reel
Middle English
relen
to whirl about
probably from
reel
spool
; see
reel
1
.
Related Forms:
noun
Maine
A handheld hammer used in a quarry for shaping granite blocks.
Origin of reel
Origin unknown
---
reel

Verb
(third-person singular simple present reels, present participle reeling, simple past and past participle reeled)
To wind on a reel.
To unwind, to bring or acquire something by spinning or winding something else.

He reeled off some tape from the roll and sealed the package.

To walk shakily or unsteadily; to stagger; move as if drunk or not in control of oneself.
(reel back) To back off or step away unsteadily and quickly.

He reeled back from the punch.

To have a whirling sensation; to be giddy.
To be in shock.
---