verb
To careen is defined as to move quickly and wildly from side to side in a specific direction in an out of control manner.

When you lose control of a sled and start going rapidly downhill in an uncontrolled way, this is an example of a time when you careen down the hill.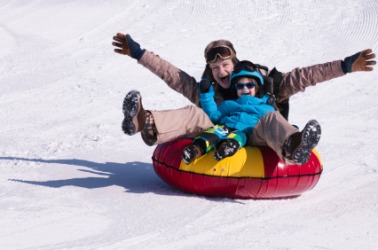 Two people careen down a snowy hill.
---
careen definition by Webster's New World
transitive verb
to cause (a ship) to lean or lie on one side, as on a beach, for cleaning, repairs, etc.
to caulk, clean, or repair (a ship in this position)
to cause to lean sideways; tip; tilt
Origin: French carener, careen ; from Old French carène, carine ; from OIt carena ; from Classical Latin carina, keel of a ship, origin, originally , nutshell: see hard
intransitive verb
to lean sideways, as a sailing ship before a high wind
to lurch from side to side, esp. while moving rapidly
noun
the act or position of careening
Webster's New World College Dictionary Copyright © 2010 by Wiley Publishing, Inc., Cleveland, Ohio. Used by arrangement with John Wiley & Sons, Inc.
---
careen definition by American Heritage Dictionary
verb
ca·reened
,
ca·reen·ing
,
ca·reens
verb
, intransitive
To lurch or swerve while in motion.
To rush headlong or carelessly; career: "He careened through foreign territories on a desperate kind of blitz" (Anne Tyler).
Nautical

a. To lean to one side, as a ship sailing in the wind.

b. To turn a ship on its side for cleaning, caulking, or repairing.
verb
, transitive
Nautical
To cause (a ship) to lean to one side; tilt.

a. To lean (a ship) on one side for cleaning, caulking, or repairing.

b. To clean, caulk, or repair (a ship in this position).
noun
Nautical
The act or process of careening a ship.
The position of a careened ship.
Origin: From French (en) carène, (on) the keel, from Old French carene, from Old Italian carena, from Latin carīna; see kar- in Indo-European roots.
Related Forms:
Usage Note:
The implication of rapidity that most often accompanies the use of
careen
as a verb of motion may have arisen naturally through the extension of the nautical sense of the verb to apply to the motion of automobiles, which generally
careen,
that is, lurch or tip over, only when driven at high speed. There is thus no reason to conclude that this use of the verb is the result of a confusion of
careen
with
career,
"to rush." Whatever the origin of this use, however, it is by now so well established that it would be pedantic to object to it.