noun
The definition of a wheel is a round frame that turns from a central point.

An example of a wheel is what you hold on to while steering your car.
An example of a wheel is something that is used for moving vehicles, carts and platforms forward.
verb
Wheel is defined as to turn, carry or move something along in a vehicle with wheels.

An example of wheel is pushing a stroller.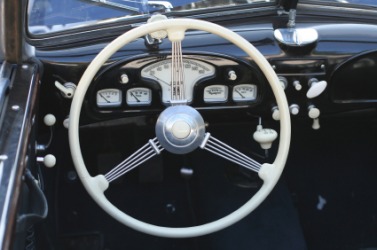 A wheel for steering a car.
---
wheel definition by Webster's New World
noun
a solid or partly solid disk, or a circular frame connected by spokes to a central hub, capable of turning on a central axis and used as to move vehicles or transmit power in machinery
anything like a wheel in shape, movement, action, etc., as a fireworks device that revolves while burning
a device or apparatus of which the principal element is a wheel or wheels; specif.,

in the Middle Ages, an instrument of torture consisting of a circular frame on which the victim's limbs were painfully stretched
a wheel with projecting handles for controlling the rudder of a ship
paddle wheel, potter's wheel, spinning wheel, steering wheel, etc.
any of various rotating disks used for gambling: a roulette wheel
☆

Informal

a bicycle
☆

Slang

an automobile

the moving, propelling, or controlling forces or agencies: the wheels of progress
a turning about; circular, rotating, or revolving movement; specif., a turning movement as of troops or ships in line, with one end of the line as the pivot; also, any pivoting movement like this, as of dancers
☆

Slang

an important, influential, or authoritative person

Archaic

the refrain of a song
Origin: Middle English whele ; from Old English hweol, earlier hweogol ; from Indo-European an unverified form kwekwlo-, wheel (from source Classical Greek kyklos, a circle) ; from base an unverified form kwel-, to turn, be around, dwell from source Classical Greek telos, turning point, end, polos, axis, Classical Latin colere, to till, dwell, German hals, neck
transitive verb
to move or roll along (something equipped with wheels): to wheel a baby buggy
to transport in a wheeled vehicle

to cause to turn, revolve, or rotate
to furnish with a wheel or wheels
intransitive verb
to turn on or as on an axis; pivot, rotate, revolve, etc.
to reverse one's course of action, movement, opinion, attitude, etc.: often with about
to turn in a swooping, circular motion: said of birds
to move or roll along on or as on wheels
Webster's New World College Dictionary Copyright © 2010 by Wiley Publishing, Inc., Cleveland, Ohio. Used by arrangement with John Wiley & Sons, Inc.
---
wheel definition by American Heritage Dictionary
noun
A solid disk or a rigid circular ring connected by spokes to a hub, designed to turn around an axle passed through the center.
Something resembling such a disk or ring in appearance or movement or having a wheel as its principal part or characteristic, as:

a. The steering device on a vehicle.

b. A potter's wheel.

c. A water wheel.

d. A spinning wheel.

e. Games A device used in roulette and other games of chance.

f. A firework that rotates while burning.

g. Informal A bicycle.

h. An instrument to which a victim was bound for torture during the Middle Ages.

wheels Forces that provide energy, movement, or direction: the wheels of commerce.
The act or process of turning; revolution or rotation.
A military maneuver executed in order to change the direction of movement of a formation, as of troops or ships, in which the formation is maintained while the outer unit describes an arc and the inner or center unit remains stationary as a pivot.
wheels Slang A motor vehicle or access thereto: Do you have wheels tonight?
Slang A person with a great deal of power or influence: a wheel in state government.
verb
wheeled
,
wheel·ing
,
wheels
verb
, transitive
To roll, move, or transport on wheels or a wheel.
To cause to turn around or as if around a central axis; revolve or rotate.
To provide with wheels or a wheel.
verb
, intransitive
To turn around or as if around a central axis; revolve or rotate.
To roll or move on or as if on wheels or a wheel.
To fly in a curving or circular course: A flock of gulls wheeled just above the dock.
To turn or whirl around in place; pivot: "The boy wheeled and the fried eggs leaped from his tray" (Ivan Gold).
To reverse one's opinion or practice: Don't be surprised if the boss wheels about on that idea.
Origin: Middle English, from Old English hwēol; see kwel-1 in Indo-European roots.
The American Heritage® Dictionary of the English Language, 4th edition Copyright © 2010 by Houghton Mifflin Harcourt Publishing Company. Published by Houghton Mifflin Harcourt Publishing Company. All rights reserved.
---
wheel - Phrases/Idioms
at the wheel
or
behind the wheel
steering a ship, motor vehicle, etc.
in charge; directing activities
spin one's wheels
☆
Informal
to engage in fruitless activity
wheel and deal
☆
Slang
to behave in an aggressive, flamboyant way, as in arranging business or political deals
wheel of fortune
the wheel which the goddess of fortune was believed to rotate to bring about the alternations or reverses in human affairs
the changes or vicissitudes of life
wheels within wheels
a series of involved or interrelated circumstances, motives, etc. reacting upon one another
at
/behind

the wheel

Operating the steering mechanism of a vehicle; driving.
Directing or controlling; in charge.
wheel and deal
Informal
To engage in the advancement of one's own interests, especially in a canny, aggressive, or unscrupulous way.