pedal

ped·al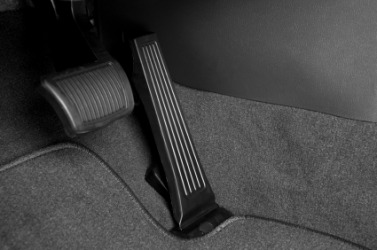 The brake and gas pedals of an automobile.
noun
The definition of a pedal is something you push with your foot or legs that powers something or that prevents the dampers on a piano from stopping the sound.

The metal thing in your car that you press down on to let gas come in and power the engine is an example of a gas pedal.
The thing you push on with your foot to get your bike to move forward is an example of a pedal.
The thing you push your foot down on when you want a piano to hold a note is an example of a pedal.
verb
Pedal is to use your foot or leg power to power something, or to press on something that provides power.

An example of pedal is wen you make a bicycle move forward with the power of your legs by pressing on pedals.
---
pedal
of or having to do with the foot or feet
of or operated by a pedal or pedals
Origin of pedal
Classical Latin
pedalis
from
pes
(gen.
pedis
), foot
a lever operated by the foot, used in transmitting motion, as on a bicycle, or a pad pressed by the foot in activating a mechanism, as on a sewing machine, so as to operate a device
such a lever or pad used to change the tone or volume of a musical instrument, as an organ or harp
Origin of pedal
MFr
pédale
< It
pedale
< L
pedalis:
see pedalthe adjective
transitive verb
intransitive verb
-·aled

or

-·alled

,

-·al·ing

or

-·al·ling
to move or operate by a pedal or pedals; use the pedals (of)
---
pedal
noun
a. A foot-operated lever used for actuating or controlling a mechanism, as in a loom, sewing machine, piano, or organ.

b. A similar foot-operated part attached to a crank and used for powering various devices, such as a bicycle.

Music

a. A pedal point.

b. A pedal keyboard.
adjective
Of or relating to a pedal.
Of or relating to a foot or footlike part: the pedal extremities.
verb
ped·aled, ped·al·ing, ped·als,
or
ped·alled
ped·al·ling
verb
intransitive
To use or operate a pedal or pedals.
To ride a bicycle.
verb
transitive
To operate the pedals of.
Origin of pedal
French
pédale
from
Italian
pedale
from
Latin
pedālis
one foot long
from
pēs
ped-
foot
; see
ped-
in Indo-European roots.
Related Forms:
ped′al·er ped′al·ler

noun
---
pedal

---