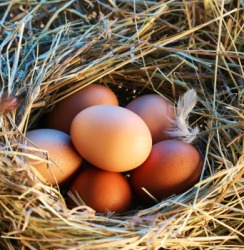 These eggs are very breakable.
---
breakable
adjective
that can be, or is liable to be, broken
noun
a thing easily broken; fragile article
---
breakable
adjective
Liable to break or to be broken. See Synonyms at
fragile
.
noun
An article that can be broken easily: We put the breakables away before the toddlers arrived.
Related Forms:
---
breakable
Noun
(plural breakables)
Something that is (easily) breakable.

We had to wrap all the breakables before the movers arrived.

(usually in the plural, music) A set of customized hardware that is part of a drum kit. Breakables typically consist of: the drummer's cymbals including high-hats, the snare drum, the kick pedal and the drummer's stool.
Usage notes
May be more common as breakables, the group of things that are easily broken.
---