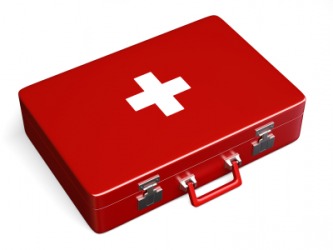 A first aid kit.
---
kit
noun
Brit., Dialectal

a small wooden tub or bucket for holding fish, butter, etc.

personal equipment, esp. as packed for travel
a set of tools or implements
equipment for some particular activity, sport, etc.: a first-aid kit, a salesman's kit
a set containing a number of parts to be assembled: a model airplane kit

a box, bag, or other container for carrying such parts, equipment, or tools

Informal

lot; collection: now chiefly in ☆ , everybody or everything
Origin of kit
Middle English
kyt
; from Middle Dutch
kitte,
container made of hooped staves
noun
a tiny fiddle used by 16th- through 18th-cent. dancing masters
Origin of kit
Early ModE: abbreviation, abbreviated ; from uncertain or unknown; perhaps cithara
noun
a masculine name
a feminine name
---
kit
noun
a. A set of articles or implements used for a specific purpose: a survival kit; a shaving kit.

b. A container for such a set.

A set of parts or materials to be assembled: a model airplane kit.
A packaged set of related materials: a sales kit.
Chiefly British

a. A collection of clothing and other personal effects used for travel or by a soldier.

b. A container, such as a bag or knapsack, for storing or holding such a collection.
Phrasal Verb:
kit out
Chiefly British
To provide with clothing or equipment.
Origin of kit
Middle English
kitte
,
wooden tub
, probably from Middle Dutch.
noun
A kitten.
One of the young of certain other fur-bearing mammals, especially a fox or rabbit.
Origin of kit
Short for
kitten
.
noun
A tiny, narrow violin used by dancing masters in the 1600s and 1700s.
Origin of kit
Origin unknown
.
---
kit
Initialism
Keep in touch.
---