knapsack
knap·sack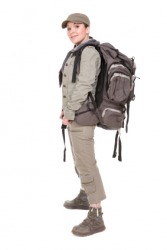 A woman wearing a backpack or knapsack.
noun
The definition of a knapsack is a bag for carrying supplies that is worn on the back.

An example of a knapsack is a schoolbag.
---
knapsack
a bag or case of leather, canvas, nylon, etc. worn on the back, as by soldiers or hikers, for carrying equipment or supplies
Origin of knapsack
Dutch
knapzak
; from
knappen
(see knap) +
zak
, a sack
---
knapsack
noun
A bag made of sturdy material and furnished with shoulder straps, designed for carrying articles on the back.
Origin of knapsack
Probably Low German
Knappsack
:
knappen
,
to bite
(
probably of imitative origin
) +
Sack
,
bag
(from Middle Low German
sak
, from Old High German
sac
, from Late Latin
saccus
; see
sack
1
).
---
knapsack
Noun
(plural knapsacks)
(US) A case of canvas or leather, for carrying items on the back.
Verb
(third-person singular simple present knapsacks, present participle knapsacking, simple past and past participle knapsacked)
To go hiking while burdened with a knapsack, usually overnight (longer.)

My sleeping bag fell off my backpack into the water, while we were knapsacking up the mountain.
---