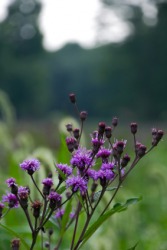 Knapweed growing in a meadow.
---
knapweed definition by Webster's New World
noun
any of several weedy plants (genus Centaurea) of the composite family; esp., a hardy perennial (C. nigra) with heads of rose-purple flowers
Origin: earlier knopweed: see knop and amp; weed
Webster's New World College Dictionary Copyright © 2010 by Wiley Publishing, Inc., Cleveland, Ohio. Used by arrangement with John Wiley & Sons, Inc.
---
knapweed definition by American Heritage Dictionary
noun
Any of various thistles of the genus Centaurea, having variously colored flowers grouped in a head with a spiny involucre.
Origin: Middle English knopwed : knop, knob; see knop + wed, weed; see weed1.