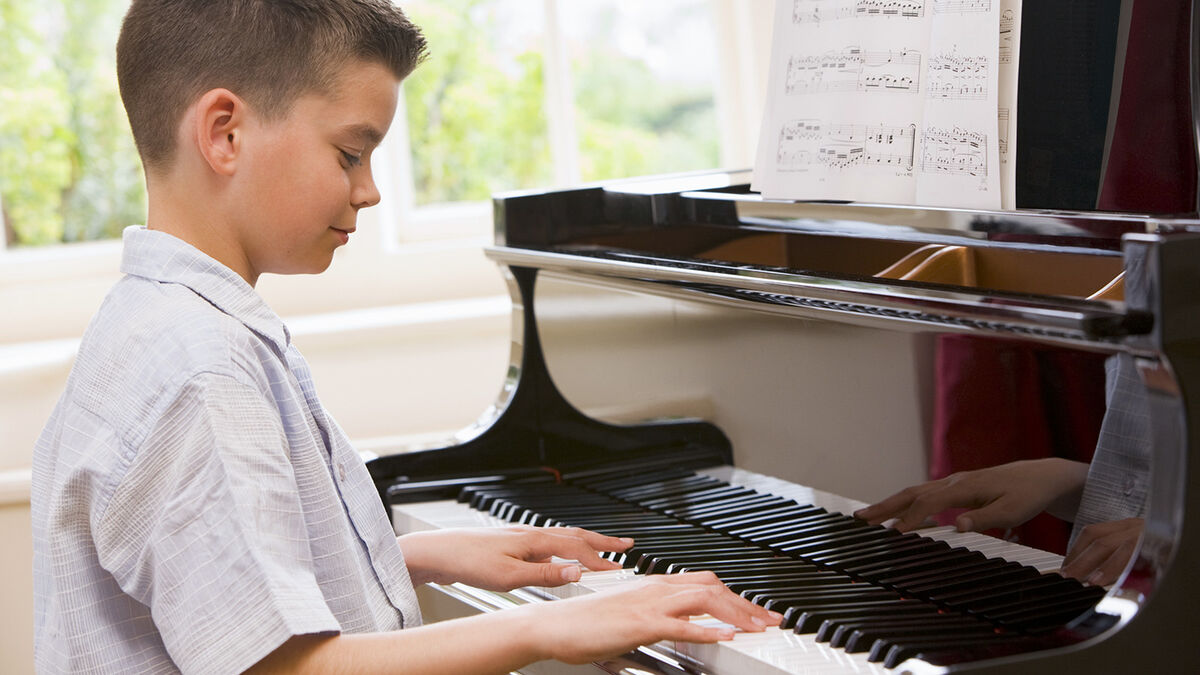 Learning how to read music or play an instrument can be confusing in the beginning. Playing the right notes and staying in the correct key are tough enough without reading the many musical abbreviations on the page! Learn what all those tricky music abbreviations and terms mean with this handy list.
Sheet Music Abbreviations
A piece of sheet music can look like a different language. And in many ways, it is – most musical instructions are written in Italian. Learn all about different dynamic and stylistic directions that you might find while sight-reading a new composition.
Playing a piece at the same volume can bore an audience. Music needs highs, lows, pianos, and fortes. See how many of these abbreviations you already know, and how many you could probably practice a few more times.
8va - Octave up
cresc - Crescendo (also noted as <)
decresc. - Descrescendo (also noted as >)
dim. - Diminuendo
f - Forte
ff - Fortissimo
fff - Fortississimo
fp - Fortepiano
mf - Mezzo-Forte
mp - Mezzo-Piano
p - Piano
pp - Pianissio
ppp - Pianississimo
vol. - Volume
There's a big difference between a flowing aria and a military march. Why? Stylistic directions tell the musician to play faster or slower, as well as more expressively or more rigidly. Here are some common abbreviations for stylistic instructions.
a - Accelerando ("getting faster")
ad lib. - Ad Libitum ("freely")
bc - Basso Continuo ("continuous bass accompaniment")
gliss - Glissando ("gliding, sliding")
pizz - Pizzicato ("plucking")
rall - Rallentando ("gradual slowing")
rit. - Ritardando ("slowing down")
Rf or Rfz - rinforzando ("with sudden force")
sf or sfz - Sforzando, Sforzato ("sudden accent")
sfp - Sforzando followed by Piano
smorz. - Smorzando ("dying away")
sord. - Sordino ("muted")
sost. ped - Sostenuto pedal ("sustained pedal")
spicc. - Spiccato ("bounce bow on a stringed instrument")
stacc. - Staccato ("playing each note separately from the others")
sul pont. - Sul Ponticello ("playing with the bow near the bridge")
tr - Trill
trem. - Tremolo ("trembling, wavering")
vib. - Vibrato ("pulsing, vibrating")
A piece of music rarely runs from beginning to end. There are lots of segnos and codas along the way that create interest for both musician and audience. These directions can include:
A.S. - Al Segno ("To the sign")
D.C. al Coda - Da Capo al Coda ("from the beginning to the Coda sign")
D.C. al Fine - Da Capo al Fine ("from the beginning to the end")
D.S. al Fine - Dal Segno al Fine ("from the Segno mark to the end")
Other Sheet Music Abbreviations
Other abbreviations that you might encounter detail the page number, measure number, metronome marking, or movement. Check out these notes that you may also found in your sheet music.
bpm - Beats per minute
c.f. - Cantus Firmus ("main melody")
m. - Measure
mm. - Measures
M.M - Metronome tempo
mvt. - Movement
p. - Page
pp. - Pages
rpm. - Revolutions per minute
If you see a piece of music with "f cl bn ob" on the top, would you know that it means? Whether you're a "br" or a "ww," it's important to know what instruments are needed for a particular composition. Read through a list of instrument abbreviations, divided by section.
Orchestral Instrument Abbreviations
An orchestra is only as good as its weakest player. Don't let that player be you! Clear up misunderstandings about common abbreviations for orchestral instruments.
afl - Alto flute
bcl - Bass clarinet
bfl - Bass flute
bn - Bassoon
bob - Bass oboe
br - Brass instruments
bstcl - Basset clarinet
bsthn - Basset horn
bug - Bugle
cbcl - Contrabass clarinet
cbn - Contrabassoon
cl - Clarinet
crt - Cornet
eh - English horn
euph - Euphonium
fda - Flute d'amore (tenor flute)
fgh - Flugelhorn
fl - Flute
hn - Horn
ob - Oboe
oda - Oboe d'amore
orch - Orchestra
pan - Pan flute
pic or picc - Piccolo
rec - Recorder
sax - Saxophone
stpt - Slide trumpet
tsx - Tenor saxophone
tba - Tuba
tbn - Trombone
tpt - Trumpet
ww - Woodwinds
String Instrument Abbreviations
Whether you prefer the sweet strains of a violin or the bold blast of an electric guitar, there's no mistaking the importance of string instruments. Keep them straight with these handy abbreviations.
bgtr - Bass guitar
bjo - Banjo
db - Double bass
dulc - Dulcimer
egtr - Electric guitar
gui - Guitar
hp - Harp
hpd - Harpsichord
mand - Mandolin
sit - Sitar
str - String instruments
uke - Ukulele
va - Viola
vc - Cello
vda - Viola d'amore
vn - Violin
The percussion section is the backbone of any orchestra – and they play more than drums! Check out these abbreviations that represent instruments in the percussion section.
bell - Bell
Ch - Chimes
DS - Drum set
gl - Glockenspiel
mar - Marimba
perc - Percussion
pk or timp - Timpani
vib - Vibraphone
xyl - Xylophone
Piano and Keyboard Abbreviations
Beginning piano students and experienced pianists could both use a refresher on common piano terms. Here are some abbreviations that you may see on a sheet of piano music.
clvd - Clavichord
epf - Electric piano
kbd - Keyboard
LH - Left hand
pf - Piano
pf3h - Piano three hands
pf4h - Piano four hands
pf5h - Piano five hands
pf6h - Piano six hands
pflh - Piano left hand
pfped - Pedal piano
pfrh - Piano right hand
prep pf - Prepared piano
org - Organ
RH - Right hand
syn - Synthesizer
Other Instrumental Abbreviations
Would you rather join an "accdn qnt" or a "bag ens"? Read through these instrumental and orchestral abbreviations to clear up any misunderstandings.
accdn - Accordion
amp - Amplified
arp - Arpeggione
bag - Bagpipe
conc - Concertina
cond. - Conductor
el-ac - Electro-acoustic
elec - Electric
ens - Ensemble
ghca - Glass harmonica
hca - Harmonica
qnt - Quintet
qt - Quartet
vuv - Vuvuzela
The human voice is the most beautiful instrument of all. Learn your way around a choral composition with these easy-to-remember choral abbreviations.
A or alt. - Alto
a-s - All-sung
bar - Baritone
bass - Bass
bbar - Bass baritone
C - Contralto
cch - Children's chorus
ch - Mixed chorus
cv - Child's voice
eq - Equal voices
fch - Female chorus
lib - Libretto
mch - Male chorus
mez - Mezzo-soprano
nar - Narrator
pfmr - Performer
sop - Soprano
ten - Tenor
Tr - Treble
uch - Unison chorus
v - Solo voice
vv - Multiple solo voices
Musical Composition Abbreviations
When you first see a piece of music, there may be several unfamiliar abbreviations on the cover page. Learn how to interpret abbreviations that describe a composition's publication, parts, and verses. Note that most of these abbreviations have periods to differentiate them from other musical terms.
acc. - Accompanied or Accompaniment
arr. - Arranged
avail. - Available
bk. - Book
bks. - Books
ca. - Circa (around a certain date)
ch. or chap. - Chapter
comp. - Composer or composed by
conc. - Concerto
ded. - Dedication or dedicated to
edn - Edition
fl. - Flourit ("flourished" dates; when a composer or musician was most active)
illus. - Illustrations
int - Intermezzo
GrS - Graphic score (non-musical notation)
f - Following page
ff - Following pages
fs - Full score
n.d. - No date of publication
no. - Number (work number in a series)
nos. - Numbers (work numbers in a series)
n.p. - No date of publication
n.pub. - No publisher
obl. - Opéra-ballet
op. - Opus
opp. - Opera
orchd - Orchestrated by
pt. - part
pubd - Published
reorchd - Reorchestrated
repr. - Reprinted
trans. - Translated by
TT - Total playing time of a musical composition
unorchd. - Unorchestrated
unpubd. - Unpublished
v. - Verse
vv. - Verses
vs. - Vocal Score
Once you're done with music practice, take a moment to listen to different types of recorded music. Check out a resource that explains how to describe your favorite music. It features musical theory fundamentals and several ways to write about a beautiful, moving, or remarkable piece of music.