rotation

ro·ta·tion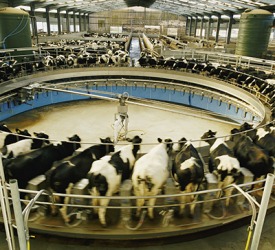 Dairy cows move on a rotation platform called a rotary milking parlor while getting fed, washed, and milked.
noun
Rotation is the process or act of turning or circling around something.

An example of rotation is the earth's orbit around the sun.
An example of rotation is a group of people holding hands in a circle and walking in the same direction.
---
rotation
a rotating or being rotated
the spinning motion around the axis of a celestial body
regular and recurring succession of changes: a rotation of duties

Pool

a game in which the balls must be pocketed in the order of their numbers
Origin of rotation
Classical Latin
rotatio
---
rotation
noun
a. The act or process of turning around a center or an axis: the axial rotation of the earth.

b. A single complete cycle of such motion.

Mathematics A transformation of a coordinate system in which the new axes have a specified angular displacement from their original position while the origin remains fixed.
Regular and uniform variation in a sequence or series: a rotation of personnel; crop rotation.
Baseball

a. The sequence in which the starting pitchers on a team pitch in games.

b. The pitchers used in such a sequence: a team with an excellent rotation.
Related Forms:
---
rotation

Noun
(plural rotations)
(chiefly uncountable) The act of turning around a centre or an axis.

The earth's rotation about its axis is responsible for its being slightly oblate rather than a sphere.

A single complete cycle around a centre or an axis.

Earth's moon completes a rotation every twenty-seven days or so.

A regular variation in a sequence.

The medical resident finished a two-week rotation in pediatrics and began one in orthopaedics.

(mathematics) An isometry that fixes precisely one point.

The function mapping (x,y) to (−y,x) is a rotation.

(baseball) The set of starting pitchers of a team.
(aviation) The step during takeoff when the pilot commands the vehicle to lift the nose wheel off the ground during the takeoff roll.
Origin
From Latin rotationem, accusative of rotatio.
---