rotate

ro·tate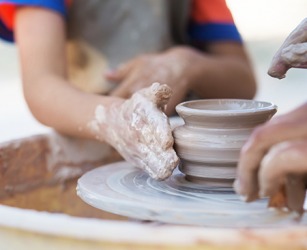 The pottery wheel rotates to help shape the clay pot.
verb
To rotate is to turn something around a central point, or to take turns.

An example of rotate is to move the tires around on a car to new positions on the car to let them wear evenly.
An example of rotate is moving the players in a volleyball game.
---
rotate
intransitive verb
transitive verb
-·tat·ed

,

-·tat·ing
to turn around or cause to turn around a center point or axis; revolve
to go or cause to go in a regular and recurring succession of changes; take, or cause to take, turns: to rotate crops
Origin of rotate
from Classical Latin
rotatus,
past participle of
rotare,
to turn from
rota,
wheel: see roll
shaped like a wheel, with radiating parts, as the corolla of some flowers
Origin of rotate
< L
rota,
wheel + -ate
---
rotate
verb
ro·tat·ed, ro·tat·ing, ro·tates
verb
intransitive
To turn around on an axis or center. See Synonyms at turn.
To proceed in sequence; take turns or alternate: Interns will rotate through the various departments.
verb
transitive
To cause to turn on an axis or center.

a. To plant or grow (crops) in a fixed order of succession.

b. To cause to alternate or proceed in sequence: The coach rotates her players frequently near the end of the game.
adjective
Having radiating parts; wheel-shaped.
Origin of rotate
Latin
rotāre
rotāt-
from
rota
wheel
; see
ret-
in Indo-European roots.
Related Forms:
---
rotate

Verb
(third-person singular simple present rotates, present participle rotating, simple past and past participle rotated)
(intransitive, of aircraft) to lift the nose, just prior to takeoff.

The aircraft rotates at sixty knots.

to spin, turn, or revolve something.

Rotate the dial to the left.

to advance something through a sequence.
to replace older materials or to place older materials in front of newer ones so that older ones get used first.

The supermarket rotates the stock daily so that old foods don't sit around.

(of crops) to grow or plant in a certain order.
Adjective
(not comparable)
Having the parts spreading out like a wheel; wheel-shaped.

a rotate spicule or scale; a rotate corolla
---