Neptune

Nep·tune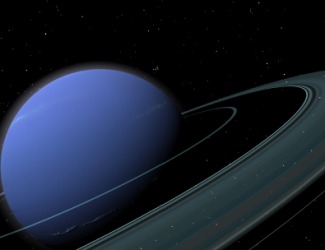 The planet Neptune.
noun
The definition of Neptune is the eighth planet from the Sun.

Facts About Neptune

Astronomers had noticed that Uranus was not always where they expected it to be, so they concluded that another planet's gravity was influencing it.
Neptune is the coldest planet in the solar system. Surface temperatures can get down to -235 degrees Celsius.
In size and color, it is almost a twin to Uranus.
Its diameter is 30,775 miles which is four times more than Earth's.
Neptune's orbit around the Sun takes 165 Earth years.
Neptune's atmosphere consists of hydrogen, helium, ammonia and methane. It appears blue because of the methane in its atmosphere.

The upper layer of Neptune's atmosphere consists of frozen methane and the lower, dark layer is made of hydrogen sulfide.
The layers of the atmosphere swirl rapidly, up to 750 miles an hour, and occasionally there are huge storms that rotate like hurricanes.
It has a large storm in its southern hemisphere called the Great Dark Spot, similar to Jupiter's Greast Red Spot.
Neptune's winds are the strongest in the solar system.
Scientists think there may be a core of rock and ice.
There are 13 moons orbiting around Neptune.
There are three rings that are fairly thick and one very faint ring. They are much smaller than the rings of Saturn and are made of dust.
In 1989, Voyager 2 observed geysers or volcanoes that were spewing liquid nitrogen and recorded 11 moons.

An example of Neptune is a planet with regular winds of around 750mph.
---
Neptune
Rom. Myth.

the god of the sea: identified with the Greek Poseidon
the sea personified

Origin of Neptune

ModL the fourth largest planet of the solar system and normally the eighth in distance from the sun: it has a thin, icy ring system around its equator: diameter, c. 49,530 km (c. 30,780 mi); period of revolution, 164.79 earth years; period of rotation, 16.11 hours; 13 satellites; symbol, ?
Origin of Neptune
Middle English from Classical Latin
Neptunus
, probably from Indo-European an unverified form
nebhtus
from base an unverified form
nebh-
, moist from source nebula
---
Neptune
noun
a. Roman Mythology The god of water, later identified with the Greek Poseidon.

b. The sea.

The eighth planet from the sun, having a sidereal period of revolution around the sun of 164.8 years at a mean distance of 4.5 billion kilometers (2.8 billion miles), a mean equatorial diameter of 49,528 kilometers (30,775 miles), and a mass 17.25 times that of Earth.
Origin of Neptune
Latin
Neptūnus
Related Forms: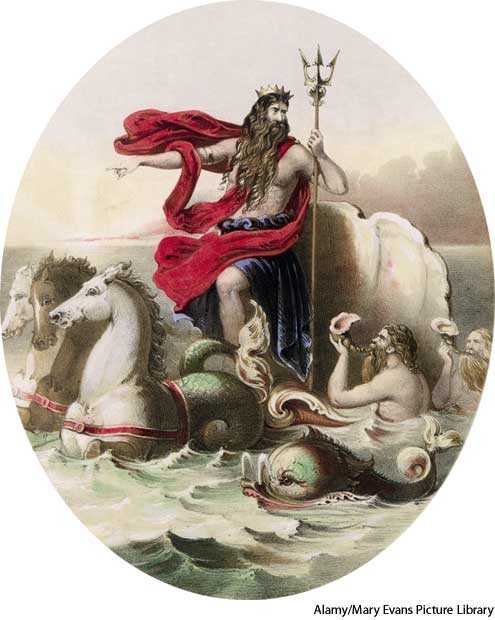 Neptune
top:the Roman god
bottom: the planet Neptune
Neptune
---