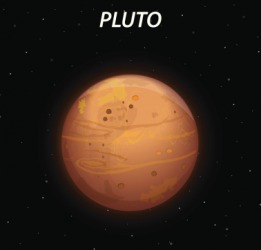 Pluto
noun
The definition of Pluto is a dwarf planet that was once designated as the ninth planet from the sun.

Facts About Pluto

Pluto was first discovered by Clyde W. Tombaugh in 1930.
The name Pluto originated when an 11 year old girl suggested that the solar system's smallest planet should be named after the Roman God of the underworld, Pluto, because it is so far from the light of the sun.
The diameter of Pluto is 2274 km or 1413 miles.
Is about 70% rock and 30% ice made from water.
Has an atmosphere of nitrogen, carbon monoxide, and methane.
Has a temperature that ranges from -235 to -210 degrees C, or from -391 to -346 degrees Fahrenheit.
Pluto has three moons - Charon, Nix and Hydra.
Pluto is only 0.07 times the mass of the other celestial objects found in its orbit, so it does not meet the IAU's third criteria that an object "should be the dominant gravitational body in its orbit."
In 2006, the IAU officially downgraded Pluto and took away Pluto's planetary title and status. Instead, Pluto was labeled a dwarf planet.
NASA has sent their "New Horizons" spacecraft to touchdown on Pluto in 2015.

An example of Pluto is the former planet that is now designated as a dwarf planet.
---
Pluto
Class. Myth.

the god ruling over the lower world: also called Hades by the Greeks and Dis or Orcus by the Romans
a large dwarf planet orbiting beyond Neptune: diameter, c. 2,270 km (c. 1,410 mi); period of revolution, c. 248.59 earth years; period of rotation (retrograde), 6.39 earth days; three satellites; symbol, ?: formerly classified as the ninth major planet
Origin of Pluto
Classical Latin from Classical Greek
Plout?n
from
ploutos
, wealth: see plutocracy
---
Pluto
noun
Roman Mythology The god of the dead and the ruler of the underworld, identified with the Greek Hades.
A dwarf planet having a sidereal period of revolution about the sun of 248.5 years, a highly elliptical orbit with a perihelion distance of 4.4 billion kilometers (2.8 billion miles) and an aphelion distance of 7.4 billion kilometers (4.6 billion miles), and a mean equatorial diameter of 2,302 kilometers (1,485 miles), less than half that of Earth. Until 2006, Pluto was classified as the ninth planet in the solar system. See Usage Note at planet.
Origin of Pluto
Latin
Plūtō
Plūtōn-
from
Greek
Ploutōn
from
ploutos
wealth (from the belief that the underworld was the source of wealth from the ground)
; see
pleu-
in Indo-European roots.
---
pluto

Verb
(third-person singular simple present plutos, present participle plutoing, simple past and past participle plutoed)
Origin
Originally coined in 2006 by the American Dialect Society, defeating climate canary. Was believed by many to be a self-promotion attempt.
Origin
Ancient Greek Πλούτων (Plutōn)
Origin
From combining form of Ancient Greek πλοῦτος (ploutos, "wealth, riches").
---